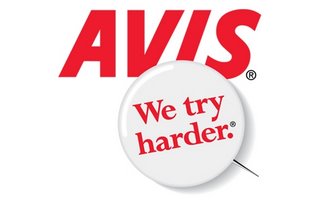 Was my use of the Avis logo last month a violation of its trademark? I need to know because Avis hit me today with a cease and desist demand, asking that its logo be taken down from the old post.
The particular logo at issue, reproduced here at the right so you know what I'm discussing, was placed in my September 17 posting regarding a federal court decision: Car Rental Immunity Law Held Unconstitutional By Federal Judge. The law at issue had been the subject, I believe, of intense lobbying by the major car rental and leasing companies who had succeeded in getting immunity from vicarious liability slipped into a massive transportation bill at an early morning House-Senate conference. So when it was ruled unconstitutional, I thought that using the logos of Avis and Hertz was fair use in the context of the discussion.
Not so, says Fred Grumman, Associate General Counsel at Avis Budget Group, Inc. In a comment he left online earlier today regarding the logo, he wrote:
We have the greatest respect for your right to express your opinions on your blog, but that does not include the right to use Avis' trademark as you have done in this particular piece.

Understandably, trademark law is not within your area of expertise. Therefore, we trust that this was done out of ignorance and not based on an intent to misuse our mark to the benefit of your personal injury practice.

We ask that you remove it immediately and refrain from any similar use in the future.
Now I will concede I am not the world's greatest expert on trademark law, but it seemed perfectly fair to use in the context of major car rental companies lobbying for a law that was tossed out and is now headed to a federal appeals court. And I didn't see how my use of the logo would cause confusion in the marketplace since I don't rent or lease cars to anyone. While it is true some attorneys may have sidelines, like perhaps hair replacement, I most assuredly am not in the car business.
And so this post is an opportunity to seek some friends to help me grapple with the issue. Since my blog is not the only one that needs to wrestle with intellectual property issues and where lines get drawn, it seems ripe for public discussion. I am hopeful that someone, perhaps from this list (or elsewhere), might have a few opinions on the subject:
(Eric Turkewitz is most definitely not in the car rental business.)
Update, 10/29/07: Dear Avis (A Public Response To Your Trademark Complaint On My Blog)
Links to this post:
Blogging is Not Defamation

There is an interesting post over at the Kentucky Law Review blog. Interesting to bloggers that is. Turns out the court has looked at trademarks and bloggers but very few suits have been filed against bloggers.

…

posted by The Principal @ October 31, 2007 7:16 PM




ding dong – avis calling

it's turning out to be a bit of an ip week… bill mcgeveran reports on avis, the car hire people, and their utterly unreasonable legal letters to blogger eric turkewitz (of the ny personal injury blog, mentioned in my blawg review

…

posted by Daithí @ October 30, 2007 1:22 PM




avis contests law blogger's fair use of logo

last month, law blogger eric turkewitz of the new york personal injury law blog published this post about a judicial decision overturning a federal statute that's relevant to liability of rental car companies.

…

posted by William McGeveran @ October 29, 2007 2:07 PM




berkman@10 in tech…nicolor

berkman alum william mcgeveran blogged about logos today over at info/law, the blog he shares with derek bambauer and tim armstrong, also berkman alums. and with perfect timing, bill has queued us up to display the new berkman@10 logo!

…

posted by @ October 29, 2007 9:38 AM




Avis tries harder…

but to do what is not entirely clear. As I picked up from the Trademark Blog, it appears that a lawyer representing Avis has told a legal blogger that he has no "right to use Avis' trademark as [he did] in this particular piece.

…

posted by Rebecca Tushnet @ October 28, 2007 8:12 PM




avis contests law blogger's use of avis logo in law blog article …

in september, the new york personal injury blog reported on a court decision in which a federal judge held that a 2005 federal law that abolished vicarious liability for car renting and leasing companies. it illustrated the article with

…

posted by Marty @ October 28, 2007 1:34 PM




posted by marcorandazza @ October 24, 2007 1:17 PM