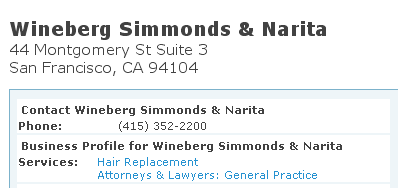 One of my favorite Saturday Night Live commercial spoofs was for Shimmer. (It's a dessert topping! No, It's a floor wax!)
Well, now the law seems to have its own version. Mister Thorne over at his blog on legal writing, Set in Style, has discovered that the San Francisco firm of Wineberg Simmonds & Narita is offering both legal services and hair replacement.
Check with Mister Throne as to how he found it. If anyone knows of a more bizarre combo, I'd love to hear it.
No word yet on discounts for bald litigants who need both services.