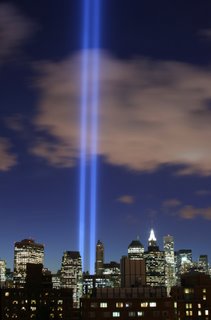 As the New York Times reports today, 41 lawsuits are heading for trial this fall resulting from the September 11th attacks. These trials are for those that opted out of the September 11 Victim Compensation Fund — usually because the amounts offered to a certain class of survivors were so low, and no doubt because the wounds were too raw for many to "put a number" on the loss of a loved one so quickly.
Here is the problem in a nutshell: The economic losses of the victims were evaluated with a schedule dependant on earnings that resulted in an average award of $2M. But the non-economic loss was limited to a flat $250,000, plus $100,000 to surviving spouses and children, regardless of whether death came instantly and without warning based on a direct hit by an aircraft, or whether a victim was on board a flight for 45 minutes in fear, or stranded on a high floor of a tower before it collapsed. (The feeling at the time was that this was too difficult a task for 3,000 people, many of whose stories would never come out.)
So those who lost family members who were not earning any money, children, retirees, etc., felt they were treated unfairly and could not, or would not, simply take a small sum without exploring the accountability of numerous entities, such as the airlines, Boeing or security companies that were supposed to be screening passengers. Here is one example of some of the thinking:
The plaintiffs are people like Mike Low, whose 28-year-old daughter, Sara, was a flight attendant on American Airlines Flight 11, the first plane to crash into the World Trade Center. For Mr. Low, it is strange for the airlines to deny that they could have anticipated the attacks, because, he says, his daughter was offered antiterrorist insurance as one of her fringe benefits, and took it.
Now here is the "problem" from the subject heading: Under New York law, grief of the surviving family members is not compensable. Unlike the vast majority of other states, New York remains in the dark ages when it comes to this subject. So a child that has been lost is viewed through the eyes of the law based solely on their earnings (none) and their suffering. But not the grief of the parents or siblings. So while some will always scream "It's just about the money," the reality is that for many it is mostly about raw emotion. Like this:
The Cottoms' lawyers would not say how much Asia might have received from the fund. Mrs. Cottom said she believed they would have received little more than the minimum $250,000 — an amount she found "insulting."

She lost a daughter, she said, who had her first menstrual period just before the fatal flight, a school trip to Los Angeles. "I took her to Wal-Mart to buy sanitary napkins," Mrs. Cottom said. "So she was growing up one day and the next day she's gone."

Her decision to reject the fund was not hard, she said. "To me, it just smelled of dishonesty. How do you justify, O.K., an 11-year-old is worth $2, but because you're the pilot of that plane, that's worth $2 million?"
While the passage of time may have made it easier for some to settle this matter, it is clear that some will want a jury hold various entities accountable for their malfeasance. But while the actual amounts awarded may surpass that which was awarded by the Victim Compensation Fund if claimants can show what their lost family members went through, the awards will not be exceptionally high. And if they are, they will be reduced by the courts afterward.
In an unusual twist, damages will be tried before liability, in the hope I assume, that this will assist with settlement talks.
(Eric Turkewitz is a personal injury attorney in New York. He also represented two claimants before the Victim Compensation Fund)