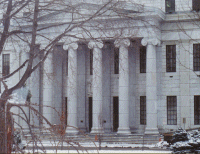 How much is too much when it comes to pain and suffering? While I have dealt with that subject before (see: How New York Caps Personal Injury Damages), New York's Court of Appeals will re-visit today the issue in one of the saddest cases ever brought. And if they follow the law, they may be forced to reduce a compensatory damage award against a monstrous child killer.
The year was 1987 and now-disbarred lawyer Joel Steinberg beat his six-year old daughter Lisa to death. In 2004 the executor of Lisa's estate procured a $15M judgment: $5 million for Lisa's pain and suffering that day, $5 million for her pain and suffering as a battered child, and $5 million in punitive damages.
In a split decision from New York's Appellate Division First Department in January 2007 that upheld the award from trial judge Louis York, Justice James Catterson, wrote for the majority as he bluntly summarized the case:
Joel Steinberg, the defendant-appellant, is a convicted child killer and abuser who fatally felled his six-year-old daughter with one blow of his hand, and then went out to dinner as she lay on a bathroom floor losing consciousness over the next eight to ten hours. He appeals now from a judgment that awarded damages against him for the pain and suffering he caused the little girl during her life, and in the tormented hours before her death.

Steinberg who appears pro se in this action complains, inter alia, that because the first-grader's death was preceded by "at most eight hours of pain and suffering" and "quick loss of consciousness [emphasis supplied]," the award of $15 million in compensatory and punitive damages is excessive. We disagree, and in simply so stating acknowledge that sometimes words fail even those who use the language to render judgments on a daily basis.
In upholding the award, the Court specifically rejected its prior case law, with this rationale:
This case of an abusive father killing his child by knocking her down with a "staggering" blow to her head and then leaving her without medical attention while he enjoyed dinner and freebased cocaine is without precedential analog. Consequently, we find ourselves free to evaluate the award on the basis of "subjective opinions which are formulated without the availability, or guidance of precise mathematical quantification. [emphasis added]
The repercussions on New York law could be quite dramatic, unless the court rules (as it may try) that the facts of the conduct are so without precedent that even if the compensatory award is upheld, it could not be used on any other cases.
But wait! If New York's high court goes that route, they have a major problem. As Justice James McGuire notes in a separate dissent:
In reviewing this award of compensatory damages, it is important to bear in mind that the outrageousness of appellant's conduct is not a relevant factor.
He goes on from there to cite U.S. Supreme Court precedent:
"Although compensatory damages and punitive damages are typically awarded at the same time by the same decisionmaker, they serve distinct purposes. The former are intended to redress the concrete loss that the plaintiff has suffered by reason of the defendant's wrongful conduct. See Restatement (Second) of Torts § 903, pp. 453-454 (1979); Pacific Mut. Life Ins. Co. v. Haslip, 499 U.S. 1, 54 [111 S.Ct. 1032, 113 L.Ed.2d 1] (1991) (O'Connor, J., dissenting). The latter, which have been described as 'quasi-criminal,' id. at 19 [111 S.Ct. 1032], operate as 'private fines' intended to punish the defendant and to deter future wrongdoing. A jury's assessment of the extent of a plaintiff's injury is essentially a factual determination, whereas its imposition of punitive damages is an expression of its moral condemnation" (Cooper Indus. v. Leatherman Tool Group, 532 U.S. 424, 432 [121 S.Ct. 1678, 149 L.Ed.2d 674] [2001] ).
And so there is, I think, the ultimate battle: On one side a huge award against a despised individual who did unspeakable acts. And on the other, a real issue that while punitive damages are to punish, compensatory damages are not supposed to take into account the nature of how the injury occurred. The bottom line: By considering the nature of the conduct for both punitive damages as well as compensatory damages, the court is allowing double-dipping. They are using the exact same conduct to justify two different awards.
This analysis of the extent of compensatory damages, by the way, brings me back to the September 11 lawsuits that I discussed yesterday, and the limited amount of damages that might be available to claimants. It seems likely that, if the compensatory award in Steinberg is upheld, claimants attorneys will attempt to cite it whenever possible in trying to uphold large awards, notwithstanding any caveat the court attempts to use in stating that this was a one-of-a-kind suit based on the reprehensible nature of the conduct.
Additional sources: