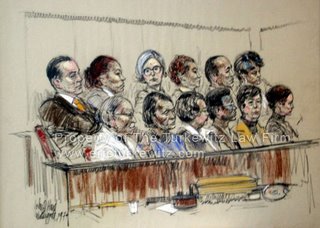 It wasn't always this way. Automatic exemptions from jury duty in New York went to many different professions , including attorneys, doctors, and cops. Until it changed in 1995. Mayor Rudy Giuliani famously sat jury duty in 1999 (and was picked for a civil case). Chief Judge Kaye was not-so-famously called the same year (and was not picked). I was called (and picked in a criminal case), in 1997. Celebrity jurors are routine.
Now it is Mayor Mike Bloomberg's turn, as the New York Times reports. He showed up yesterday, in the same historic Manhattan Court that I tried my first case and a few others. He showed up in room 452. He waited. He was dismissed at the end of the day, unchosen. Today, he is there again.
According to the Daily News:
"I'd be one voice out of six, but I have a strong personality," Bloomberg said. "You'd have to ask the other jurors what they'd think."
And the question every trial attorney asks: Would you keep Hizzoner or bounce him?
Update: Mayor Bloomberg was dismissed today after serving two days. He was not selected.