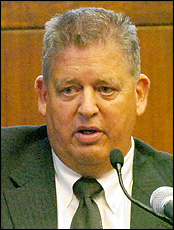 Charlie Weis has lost. The crew cut head coach of the Notre Dame football team had brought a medical malpractice case against the surgeons that had performed gastric bypass surgery on him, based on a failure to promptly diagnose and treat post-operative bleeding that had sent Weis into a coma.
The verdict was delivered today after two hours of jury deliberations, according to news accounts. The Wizard of Odds college football blog had been live-blogging the trial. This was the second trial, as the first had ended in mistrial when a juror fell ill and the defendant physicians ran to assist in full view of the rest of the jury.
Nationwide, approximately 2/3 of all malpractice verdicts favor the defendants. This occurs because, generally speaking, it is usually the most difficult of cases that go to verdict, and due to juries favoring physicians over patients according to a recent Michigan Law Review study.
——————————————————————————
Other links:
(Eric Turkewitz is a personal injury attorney in New York)