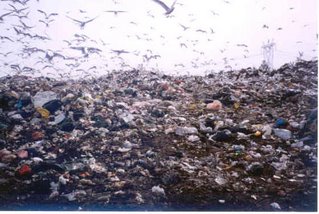 The New York Court of Appeals today rejected efforts by the City of New York to dismiss a personal injury lawsuit surrounding the 81-acre Pelham Bay Landfill in the Bronx. The city-owned landfill had been the site of illegal dumping of pollutants and was officially closed in 1978.
Nine lawsuits, representing 29 plaintiffs, had been brought by neighbors living within a mile of the dump, who had developed acute lymphoid leukemia or Hodgkin's disease. The suits, now consolidated, had been brought between 1991 and 1993 claiming that the city's negligence in the creation and maintenance of the site had resulted in elevated levels of toxic substances that caused injury and death.
According to a 2003 article in the Daily News, there was illegal dumping of industrial waste, oil, sludge and benzene, a known carcinogen and a leading cause of childhood leukemia. By the time the dump closed in 1978, more than a million gallons of toxic waste had leaked into Eastchester Bay where local children played and swam. After the landfill was closed, the city received 'millions of dollars' from a lawsuit it brought against companies that had illegally dumped hazardous wastes into the Pelham landfill and four others during the 16 years of its operation.
Two issues had presented themselves in the long-running litigation: The statute of limitations and the central issue of causation. On the issue of causation, which is the heart of today's opinion, New York's high court allowed the case to proceed based on procedural grounds.
Since the original motion was for dismissal for failing to plead a cause of action, and not one for summary judgment based on the merits, the plaintiff's could simply rely on the pleadings, and did not need an expert (though they had presented affidavits from a forensic toxicologist and an environmental health expert, among others). The court held that it is proper at this stage to "accept the facts as alleged in the complaint as true, accord plaintiffs the benefit of every possible favorable inference, and determine only whether the facts as alleged fit within any cognizable legal theory."
The decision affirmed the 3-2 majority ruling of the Appellate Division, First Department on that basis. The plaintiffs are represented by Shandell, Blitz, Blitz & Bookson of New York.
The decision in Nonnan v. City of New York can be found here.
Addendum 6/28/07 – New York Post covers the decision: 'TOXIC' BX. SUIT FINALLY OFF TO TRIAL (and notes that this is believed to be the longest running case in Bronx County)
(Eric Turkewitz is a New York personal injury attorney.)