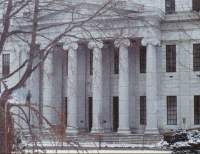 Last week, New York's highest court did something I've never seen. And lawyers I have spoken with have also never seen it.
They wrote a decision without any citations at all. Not one. If anyone else has ever seen such a thing from a state's highest court, I'd love to hear about it.
The decision is reproduced in full below (Scott Greenfield, loved the caption, People v. Person, and the substance is also discussed by Nicole Black at Sui Generis):
People v Person
2007 NY Slip Op 03959
Decided on May 8, 2007
Court of Appeals
Published by New York State Law Reporting Bureau pursuant to Judiciary Law § 431.
This opinion is uncorrected and subject to revision before publication in the Official Reports.

Decided on May 8, 2007
No. 66

[*1] The People & c., Respondent,
v
Paul Person, Appellant.

MEMORANDUM:
The order of the Appellate Division should be affirmed. Defendant orchestrated a robbery that was perpetrated by two accomplices whose actions resulted in the death of the victim. After being apprehended by the police, the accomplices gave videotaped statements incriminating themselves but exculpating defendant of involvement in the crime. The [*2]accomplices later entered into cooperation agreements with the People and gave testimony at trial detailing defendant's role in planning the robbery.

During cross-examination of the accomplices, defense counsel used the transcripts of the videotaped interviews to impeach the credibility of the witnesses by questioning them about the prior inconsistent statements each had initially made to the police. Both accomplices acknowledged they made the prior inconsistent statements. Defense counsel then sought to introduce the videotaped interviews into evidence. Supreme Court denied the request because the accomplices admitted they made the statements on the videotapes. Defendant was subsequently convicted of multiple counts of robbery in the first and second degrees.

Before our Court, defendant asserts that preclusion of the videotaped statements was erroneous as a matter of law because Supreme Court failed to recognize that the jury could not reliably gauge the credibility of the witnesses without viewing their demeanor and hearing their voices during the police interviews. At trial, however, the crux of defendant's argument was that he should be able to use the videotapes, rather than the transcripts, to prove the content of the prior inconsistent statements. Defendant at that time failed to explain how the videotapes would have conveyed information beyond that provided by the verbatim transcripts of the statements. As a result, he did not preserve his current contention that Supreme Court had discretion to admit the videotapes because they were relevant to the jury's ability to reliably evaluate the credibility of the witnesses. We therefore have no occasion to consider whether the preclusion of this evidence constituted an abuse of discretion as a matter of law. Defendant's constitutional claims are similarly unpreserved.