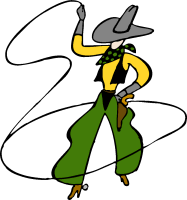 The New York Personal Injury Law Blog presents the week that was, taking you from pre-litigation through verdict and appeal:
Before heading into the courtroom, we look in on risky conduct that leads to lawsuits, check to see that the courthouse doors are open, and that we've selected the right attorney for the job:
Are our consumer products safe for us to use? Depends on who you ask. But if President Bush has his way with the nomination of Michael Baroody to head the Consumer Product Safety Commission, you will certainly think twice about it. Seems Pres. Bush wants the lobbyist for the National Association of Manufacturers to watch out for safety. David Arkush at the Consumer Law and Policy Blog has the action;
Do you think our drugs are safe? What if the pharmacist can't even read the chicken-scratch that passes for a prescription? On The Pharm has a few examples of illegible prescriptions;
When does a Good Samaritan law apply? Well, not in the emergency room in North Dakota when a doctor expects to be paid, (OnPoint LegalNews) even if he was called in an emergency while waiting to operate on another (via Kevin M.D.);
Do we have the right counsel? Well, if the gov't hired private counsel on a contingency, there may be an issue at stake, as Howard Erichson discusses at the Mass Tort Litigation Blog in States Revise Policies on Outside Counsel. Subsequent to that post, Pres. Bush signed an executive order banishing the practice on a federal level, though the order doesn't seem to me to make much sense;
Before we start a suit, we better make sure it's good. Unlike the matter of the horse that lost the Triple Crown because of an article in the newspaper (via WSJ Law Blog). Yeah, you read that right. In dumping the suit, Florida's Judge Gary Farmer ripped into traditional judicial style style in this concurring opinion in Funny Cide Ventures v. The Miami Herald (via Orin Kerr at Volokh who hated the piece);
Our case hasn't settled and we believe we have the all-clear for litigation, so off we go:
We need to carefully consider the causes of action for that medical malpractice case, because it might also be a breach of warranty case as Jacob Goldstein of the WSJ HealthBlog notes in A Warranty for Heart Surgery;
We also need to make sure we have the right parties. Demonstrating that an injury can have multiple causes, this lawsuit was brought against State Farm for denying coverage for surgery that doctors agree could have prevented her paralysis (via the Injury Blog);
If our state has one of those one-size-fits-all caps that deprives the most badly injured of fair compensation, we might have a problem. As Justinian Lane at TortDeform points out in a man-bites-dog type of story, however, at least one Oregon hospital wants to see the cap raised;
Discovery can sometimes be tricky. Here, the Florida Supreme Court weighed in on a medical malpractice case regarding discovery requests for hospitals to turn over lists of hospital privileges granted to physicians by the facilities' credentials committees;
Also on the subject of medical malpractice, pediatrician and med-blogger Flea, who had started live-blogging his own malpractice case, first took down three recent posts last week, and has now taken down the whole site without explanation. Kevin M.D. wonders if we are seeing the demise of the medical blogosphere with other docs taking down their sites;
Did cross-examination go as well as we thought when we caught that particular witness with prior inconsistent statements? The Drug and Device Law Blog has An Empirical Study Of The Value of Impeaching With Prior Inconsistent Statements;
Sometimes we settle during discovery. Jim Higgins reports, from the Tennessee Law Blog, a $64 million class-action settlement regarding the effectiveness and dangers of Paxil on minors;
Will the verdict withstand appeal? In a Ford rollover case with a $55M punitive damage award, the US Supreme Court has remanded the punitive damages for consideration in light of the recent case of Philip Morris v. Williams regarding jury instructions in such cases. The problem, as readers of this space know, is that the Supreme Court had issued a very confusing opinion in Philip Morris; As it happens, Traci M. Braun and Thalia L. Myrianthopoulos wrote on the subject this week for Law.com in 'Philip Morris' Decision May Be Hazardous to Jurors' Comprehension; And Rob Luke has yet more on at LegalNewsLine;
With the week done, we pack our trial bag up and go home with some lighter weekend reading:
Enjoy the weekend.
(Submissions for next week's edition may be made to blog[at]TurkewitzLaw.com)