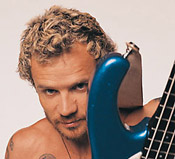 Medical blogger Flea has removed blog postings for his own medical malpractice trial. The blog had generated great interest throughout the medical and legal blogospheres, as he became the first person to live-blog his own trial. I had covered the subject in Medical Malpractice Trial Starting For Med-Blogger, listing the posts and their subject areas. The postings had also been cited at Overlawyered, Kevin, M.D., Law.com , Deliberations and Simple Justice, among other places.
The pseudonymous Flea — a pediatrician in the northeast currently in the midst of a wrongful death case regarding a child — ran risks with what he was doing, as he had publicly discussed the private counsel he had with his legal team. This opened the door to questions on that otherwise privileged subject at trial if his identity was discovered by plaintiff's counsel, and potentially could jeopardize his insurance coverage if his carrier thought this hindered the defense of the action. His postings have included, among other things, advice on what to read, and a prep session where he had been taped and given a copy of the tape for review.
While the most recent postings about the trial are now gone, the older ones remain. Inexplicably, these remain regarding prep sessions with a trial advisor and contact with his lawyer: What Do Malpractice Juries Care About?, Flea Takes a Screen Test and Flea Gets His Syllabus.
There is no explanation from Flea as to why at least three of his recent postings came down, though it is reasonable to conclude that he had second thoughts on the subject and sought legal advice. I don't understand why, however, if some of them came down, the others did not. Frankly, I can't think of any lawyer allowing a client to take such risks, though it was fascinating to watch.
The questions are, has he been cross-examined yet (jury selection was two days ago and he was likely the first witness), and did plaintiff's counsel know about the blog?
My own guess…we'll see an explanation from Flea when the trial is over.
Addendum: Flea has now explained that he took down the three posts about the trial because he is superstitious, and doesn't want to jinx what he sees as a good game in progress. (for him).
Second Addendum (5/16/07): The site was taken down completely on May 15, 2007, without explanation.
Third Addendum (5/31/07) Doctor "Flea" Settles Malpractice Suit After Blog Exposed In Court