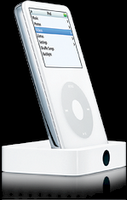 A new study has found that iPods can cause malfunction in implantable pacemakers. According to a report, interfering with the telemetry equipment caused the device to misread the heart's pacing and in one case caused the pacemaker to stop functioning altogether.
The lead author had concluded that iPod interference can lead physicians to misdiagnose actual heart function.
This, of course, raises potential legal issues for the pacemakers and physicians that implant them in the arena of products liability or medical malpractice. Since many iPods are now dropped into breast pockets, right next to heart, the issue going forward will be the need to warn patients about such a practice.