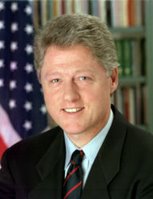 I had dinner with Bill Clinton last night. As well as New York Chief Judge Judith Kaye, most of the Court of Appeals, and dozens of appellate and trial court judges from around the state. And about 1,400 members of the New York State Trial Lawyers Association.
Clinton is amazing, pure and simple. He started with the need for decent justice systems so that the poor, the unseen and the dispossessed had a place to turn. He continued on for 45 minutes in wide ranging comments from the attorney general scandal to the extraordinary wastes of money in our health care system, to the benefits of foreign aid (peace is cheaper than war), Darfur, North Korea, Iran, drugs and poverty. He spoke without notes, rattling off facts and figures on one issue after another as if they were a part of his being, seeming to reserve most of his passion for the many problems of Africa.
He's the only post WWII president to leave office with higher polls than when he was elected. (via Volokh). There's a good reason.