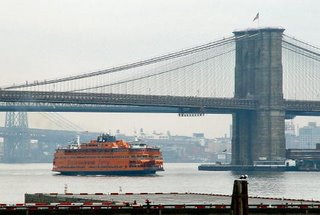 From an AP story today…
(AP) A federal judge on Monday denied the city's request to limit the amount of damages from the Staten Island ferry crash that killed 11 people and injured dozens in one of the worst mass-transit disasters in city history.

The city had sought to cap civil claims to a total of $14.4 million — the value of the vessel Andrew J. Barberi — citing a 19th century maritime statute. Scores of plaintiffs have sued the city for damages that lawyers say could reach billions of dollars.

The Barberi slammed into a concrete pier on Oct. 15, 2003 after pilot Richard Smith, suffering from extreme fatigue and on painkillers, passed out at the helm. In a guilty plea in 2005, ferry director Patrick Ryan, the top-ranking city official charged in crash, admitted he failed to implement or enforce a rule requiring two pilots during docking.
So why did the judge refuse the city's request? According to U.S. Eastern District Judge Edward Korman sitting in Brooklyn:
The city's failure to provide a second pilot or otherwise adopt a reasonable practice that addresses the issue of pilot incapacitation was plainly a substantial factor in causing the disaster…Because this negligence is directly attributable to its director of ferry operations, the city cannot limit its liability to the value of the Barberi. (page 21 of decision)