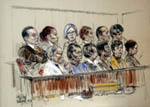 Speculating on jurors is a full time job for trial lawyers, regardless of whether the matter is personal injury or criminal law. Today is no different as a juror is excused in the Scooter Libby trial during deliberations.
Why is this particular juror important? Well, on Valentine's Day, she was the only juror not to be wearing a red shirt with a heart on, an odd event that I noted previously in Scooter Libby's Jury and The Valentine's Day Shirts.
Thus, the speculation would be that a stubborn juror (she refused to go along with the others in a "fun" thing) has now left. Since stubborn jurors are generally good for the defense, that would be bad for Libby.
See also: