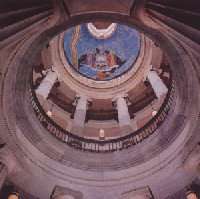 Brooklyn Supreme Court Justice Theodore Jones Jr., was sworn in today as a Judge on the Court of Appeals. From the Times Union ( Albany):
Gov. Eliot Spitzer's first nominee to the state's highest court – an African-American Vietnam veteran – was sworn into office this morning in a moving ceremony in Court of Appeals Hall [pictured at right].

Surrounded by family, friends and downstate colleagues, former Brooklyn Supreme Court Justice Theodore Jones Jr., 62, admitted to being overwhelmed.

"I take this responsibility very seriously, aware of the almost 200 years of history in this particular court," he said. "Next to the Supreme Court of the United States, this is probably the most important appellate bench in the country."

As he acknowledged February as Black History Month, Jones said he was mindful that he stands "on the shoulders" of those who preceded him, including George Bundy Smith.
Judge Jones is also a minority on the court in ways unrelated to race: New York's seven-member Court of Appeals has just three men.