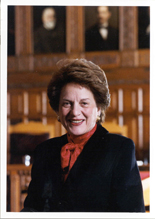 New judicial selection rules in New York faced a new problem today when the New York Law Journal reported on its front page that trial justices are opposed to their being part of new screening committees, being set up by Chief Judge Judith Kaye.
The new screening committees were announced in this Feb. 8 release and discussed by Matt Lerner over at New York Civil Law.
A resolution was adopted unanimously by more than 100 justices who attended the association's Jan. 27 annual meeting.
See also:
New York Near Deal on Judicial Selections? (This blog, 1/12/07)