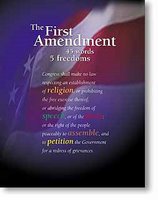 In an article slated for this Monday's edition of the New York Law Journal, Eugene F. Pigott Jr., now a judge of the New York Court of Appeals, discussed how practitioners for the first time had input in formulating the new disciplinary rules regarding advertising and solicitation. Approximately 100 attorneys and virtually all of the major bar groups expressed concerns, which are reflected in the final product.
But while the article provides a nice summary of the judiciary-bar collaboration, I found Judge Pigott's constitutional comments of most interest:
Pigott said he had no constitutional concerns with the original, more restrictive proposal even though it promptly sparked threats of litigation.

"We are a monopoly," Pigott said. "We have a right to practice law, and no one else can. In return for that monopoly, we give up certain rights."
While the courts may be able to regulate speech in some regard due to the monopoly, that doesn't cure the problem of rules that are vague or over broad. I discussed this several days ago with respecting the fact that any prominently displayed photograph of an attorney may be violative of the rules, because it is "exhibiting characteristics clearly unrelated to legal competence." It is certainly not the only place where ambiguity lies, as others have discussed (see links at that prior post).
Defining speech isn't easy when the First Amendment comes in to play. Perhaps the courts will try to rely on Justice Potter Stewart's famous 1964 definition of pornography:
"I shall not today attempt further to define the kinds of material I understand to be embraced within that shorthand description; and perhaps I could never succeed in intelligibly doing so. But I know it when I see it, and the motion picture involved in this case is not that." Jacobellis v. Ohio (concurring opinion)
We are unlikely to have heard the last on the subject:
Pigott made clear that he would have imposed stronger restrictions on attorney advertising and cautioned that the latest changes do not necessarily represent the last word. He urged attorneys to keep in contact with their presiding justice and to build on the cooperation that developed during the evolution of the advertising rules.