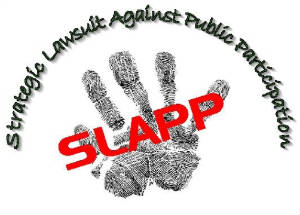 This piece I wrote appears in today's New York Law Journal. [Brackets] refer to endnotes in the original, and I've added some links:
—————————-
I've now been sued twice for defamation over postings I've made on my law blog. And you know what? It sucks.
On both occasions, I was reporting on what happened in a courtroom, on cases I was not involved with either as counsel or litigant. And on both occasions judges tossed the lawsuits in the pleadings stage as the suits assaulted my right to fairly report and comment on judicial proceedings.[1] You can't (successfully) sue people for reporting on what transpired in court, or for their opinions on what happened.
But, you know what else also happened twice? Despite both cases being utterly without merit, and both cases aggressively acting to discourage free and robust newsgathering and discussion, both plaintiffs were able to walk away while I was forced to spend enormous time on my defense including preparing documents, hiring counsel and wrestling with my insurer.
When empty lawsuits are used to retard free speech, all writers suffer.
This problem affects institutions above me in the pecking order of journalistic influence (traditional media) as well as those below (anonymous or pseudonymous commenters in countless Internet forums).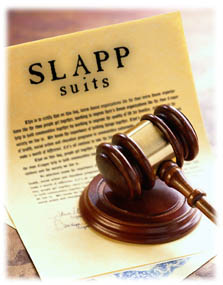 For example, in Rakofsky v. Washington Post, et al., I was part of the massive "et al." [2] that included about 80 other lawyers, law firms, media companies, and John Doe/pseudonymous defendants. It seems that one Joseph Rakofsky, a neophyte New Jersey lawyer, went down to Washington D.C. to lead a murder defense. Except that he had never tried a case before. Of any kind.
The trial didn't work out so well for Rakofsky or the client. The judge declared a mistrial partway through, and said (among other things), that it was "readily apparent" that Rakofsky's performance was "not up to par under any reasonable standard of competence under the Sixth Amendment," and "below what any reasonable person could expect in a murder trial."
After The Washington Post wrote the story up, so too did many law bloggers, of which I was one, as well as the ABA Journal, Reuters and others, giving a variety of perspectives and adding depth to the already-reported story. Rakofsky sued so many people and companies that discussed what happened that the suit was instantly dubbed Rakofsky v. Internet. [3] Ultimately it was dismissed, since writers were relying on what transpired in court, or how Rakofsky presented his skills and qualifications on his websites. But there were no sanctions for his efforts to try to quash free speech.
The second suit, reported on the front page of this newspaper on Jan. 2, 2015, involved orthopedist Michael Katz. Dr. Katz had conducted a defense medical exam in a personal injury case (not one of mine). I found out that Queens Supreme Court Justice Duane Hart had repeatedly called Dr. Katz a liar in open court regarding his testimony. I then had the audacity to use my blog for original reporting on the subject, as well as offering my opinions on its significance.
Dr. Katz sued me. Once again the case was tossed at its initial stage, and once again there was no sanction for a litigant trying to suppress free speech by means of a lawsuit. [4]
But make no mistake about this, bringing hollow lawsuits that can't even state a claim, and that clearly violate the robust freedoms ensconced in the First Amendment and fair reporting laws, have a chilling effect on others. While I continue to write about issues that I find important, there is no doubt that others hold back, fearful that they will be sued in order to intimidate them from writing, if that writing is critical.
Did I say that this affects writers? Well it also affects readers, who are deprived of the news and opinions that have been fearfully withheld.
Lawsuits to silence critics, such as these two against me, are called Strategic Lawsuits Against Public Participation, or "SLAPP suits." They have become so common, with clearly significant free speech repercussions, that many states now have powerful anti-SLAPP legislation that stop the suits cold and award costs and attorneys fees to the victims.
According to Harvard University's Berkman Center for Internet & Society, 28 states have anti-SLAPP statutes. [5] Unfortunately, the one for New York is exceptionally limited, and applies only to permits and applications in the real estate context. [6] It does not protect free speech in the abstract.
But legislation is pending in both the Assembly and Senate that would ameliorate that unnecessary limitation, and hold litigants and lawyers accountable for attempting to restrict the rights of others to speak and write freely. [7]
While some suits would nevertheless continue with pro se litigants, lawyers would be on notice that attempting to use litigation as a cudgel upon which to exert free speech concessions would backfire. Both litigants against me, it's important to note, were represented by counsel. And both lawyers must have known that the suits were doomed from the outset.
This is, thankfully, one of those issues about which there is no partisan divide. Vexatious litigants trying to silence others are not part of any political party. The chilling effect such suits have on free speech effects us all equally, from the most prominent newspapers to the most casual individual looking to discuss the issues of the day.
In 2008, both the New York Senate and Assembly took a big step forward when they unanimously passed the Libel Terrorism Protection Act, which protects us from lawsuits in foreign jurisdictions that don't have the same free speech protections as the First Amendment. [8]
The Legislature should be able to rally around this anti-SLAPP bill in the same manner, and protect the First Amendment rights of all New Yorkers.
Endnotes:
1. New York Civil Rights Law §74.
2. 2013 NY Slip Op 50739 (2013).
3. Scott Greenfield, Simple Justice, http://blog.simplejustice.us/2011/05/13/rakofsky-v-internet/, May 11, 2011.
4. Katz v. Lester Schwab, Dwyer & Katz, et al., 153581/2014.
5. http://www.dmlp.org/legal-guide/state-law-slapps.
6. Civil Rights Law §70-a and §76-a.
7. S1638-2015 and A258-2015; also, S1539-2015.
8. Matthew Pollack, New York Strikes Back Against Libel Tourism, http://www.rcfp.org/browse-media-law-resources/news/new-york-strikes-back-against-libel-tourism, Reporters Committee for Freedom of the Press, April 1, 2008, last viewed January 25, 2015.