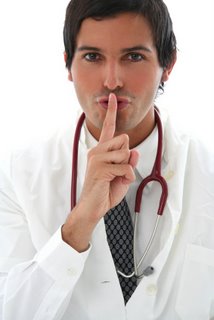 A study released today shows that almost half the nation's doctors fail to report unethical, incompetent or dangerous colleagues. According to the study by Massachusetts General Hospital and Harvard Medical School, 46% of doctors admitted they knew of a serious medical error that had been made but did not tell authorities about it.
Some of the data from the survey:
Up to 96 percent of those surveyed said they should report all instances of significant incompetence or medical errors to the hospital clinic or to authorities. The exception was among cardiologists and surgeons, with just about 45 percent agreeing.
Why cardiologists and surgeons are more prone to cover-ups isn't something I know, but I'm certainly curious about the answer.
There was also a disconnect among doctors about what they felt should be done, and what they actually do:
While 93 percent of doctors said they should provide care regardless of a patient's ability to pay, only 69 percent actually accepted uninsured patients who cannot pay.
In 2000, the U.S. Institute of Medicine reported that up to 98,000 people die every year because of medical errors in hospitals alone.
And so, while some states have been doing what they can to encourage apologies for errors (see: More Doctors Encouraged To Say "I'm Sorry"), there are still many doctors that feel burying the mistakes is better.
Links to this post:
blog stroll

we're overdue for a blogstroll. what's going on in the civil justice blogosphere? on american constitutional society blog, a wrap up on new and impending supreme court oral arguments and decisions, including the medtronic case we've

…

posted by Kia Franklin @ December 04, 2007 2:40 PM