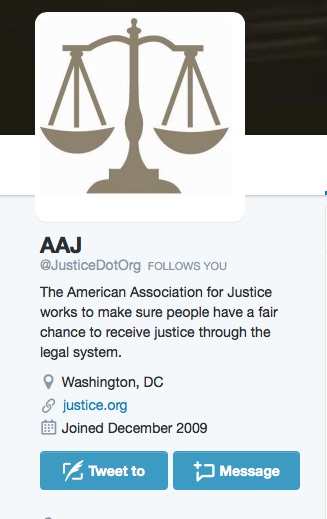 You may think that there is too much " advertising or marketing by trial lawyers. And in one sense you are right if you think in terms of subway ads, or worse (ads over urinals or at funeral home web sites).
But you know what? There is one group that does a pretty lousy job of getting its message out, at least insofar as it pertains to Twitter. And that is our trial lawyer associations — those groups of lawyers that have pooled our resources in order to advocate for consumers so that rights are not stripped away.
Despite Twitter being cheap, easy and very effective in getting a message out to the general populace (as should be abundantly obvious now given the recent election), the various trial lawyer associations do a crappy job.
I'll pick on the American Association for Justice today, of which I am a card-carrying member. With 56,000 members, this is the single most prominent national trial lawyer group in the country that fights for a fair and effective civil justice system.
The group not only lobbies Congress, but has a wide range of sections devoted to different practice areas, and publications to meet most any need. If you represent injured people as part of your practice, there is no doubt you should be a member.
But I am flummoxed by the lack of something so simple – social media outreach to those that aren't trial lawyers. To "regular people" who very much have a vested interest in the outcome of, say, the attempt to grant immunity to medical practitioners or to knee-cap class action suits.
The AAJ Twitter feed has just 6,000 followers. While a large number of followers isn't always meaningful, since phony "ghost" followers can be bought, a relatively low number of followers for a large organization is indicative of a failure to adequately utilize the medium.
AAJ's  contribution to the masses via this forum consists of mostly just posting its own stories. There is little engagement with others. No re-tweeting of articles written by others. No responsive public commentary on issues of the day that matter to people likely to be affected.
The AAJ Twitter feed acts, for the most part, as little more than another means of distributing press releases and research reports. But it fails at this.
How do I know it fails? Because few of its tweets have been shared more than 10 times. That is, quite simply, a dreadful track record.
If we are going to put all the time, money and effort into creating research reports — that debunk myths and use empirical data instead of relying on anecdotes — shouldn't we spend a little time actively promoting those reports and get them out into the public?
The more folks that read them, the more that share them, the more likely it becomes a subject of town hall meetings and additional press. Don't we want regular folk calling their elected representatives regarding the evisceration of rights?
It takes time to build up relationships with other people, particularly those with a voice likely to rebroadcast messages. The best time to start doing this was a few years ago. The second best time is today.
AAJ should be doing everything it can to encourage, and maximize, the voices of those that are fighting for the same thing — fair access to the courts.
State trial lawyer associations are, for the most part, no better. Every state, to my knowledge, has a trial lawyer association. But few are utilizing a widely used and free platform to get the messages out to those that may lose rights.
Tort "reform" was not part of the election — if it was ever mentioned by Trump or Clinton I missed it.
But with Republicans in charge now of House, Senate and White House, it sure as hell is on the front burner now.
So please, get out there, engage, and be more active in getting the messages out. Today, not tomorrow.