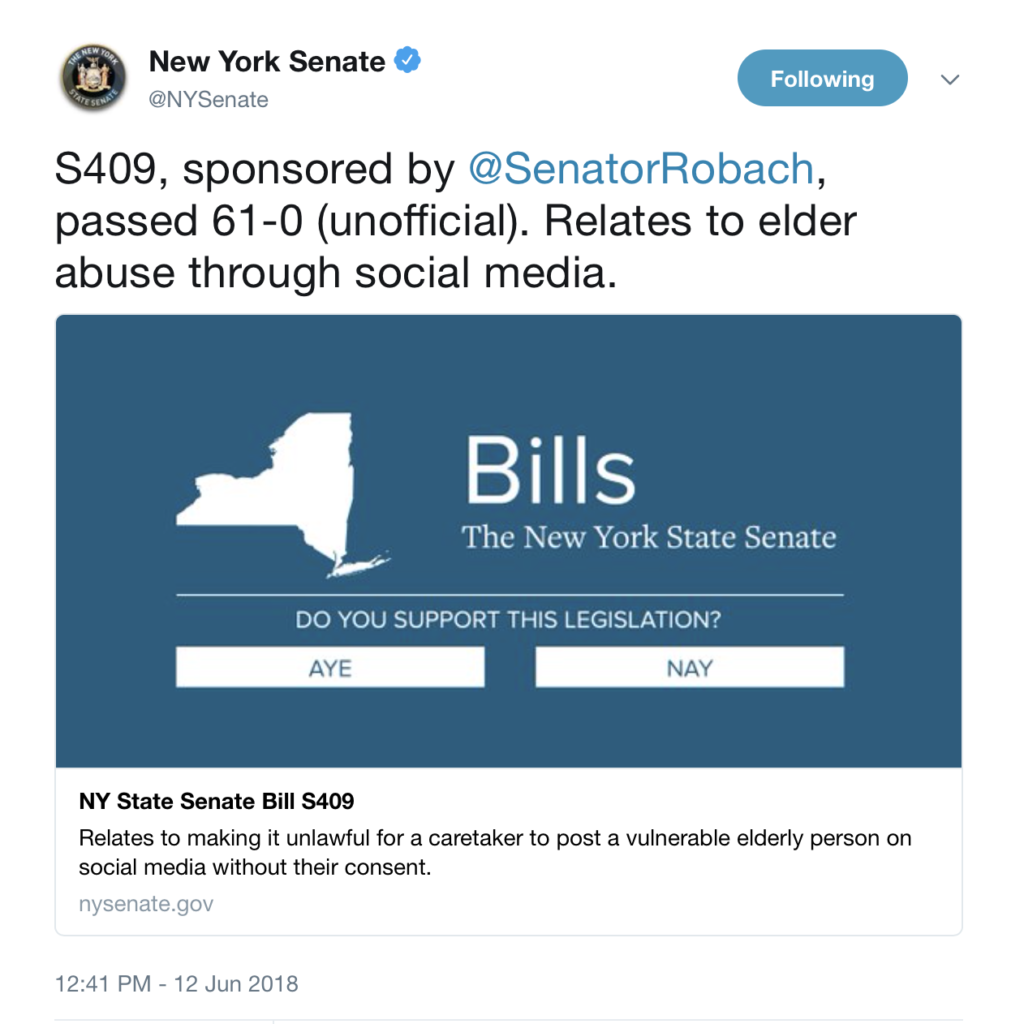 Dear NY Senate:
What the heck is going on up there in Albany? Last week you passed an anti-cyberbullying bill that restricts free speech and conduct in such a way that, if ultimately signed, is guaranteed to be tossed into the trash heap by courts because it violates the First Amendment.
And this week you do it again?! This time with your Elder Abuse Bill (S.409) that makes it a crime for caregivers (including family) to post photos on social media if elderly, vulnerable seniors aren't able to give consent.
Now I understand it might have made you feel good to pass such a bill, and you get to boast to constituents that you are doing something in Albany, but do you realize what you have really done?
For the benefit of those who voted for the bill but didn't read it, this is what is made into a misdemeanor:
A  PERSON IS GUILTY OF UNLAWFUL POSTING OF A VULNERABLE ELDERLY PERSON ON SOCIAL MEDIA WHEN, BEING A CAREGIVER WHILE PERFORMING THEIR  DUTY  OF CARE  FOR A VULNERABLE ELDERLY PERSON, HE OR SHE POSTS AN IMAGE OR VIDEO OF SUCH PERSON ON SOCIAL MEDIA INCLUDING, BUT NOT LIMITED  TO  FACEBOOK, YOUTUBE,  TWITTER, INSTAGRAM, SNAPCHAT, TUMBLR, FLICKR AND VINE, WITHOUT SUCH PERSON'S CONSENT.
First off, while the First Amendment says that Congress "shall make no law…abridging the freedom of speech," and the amendment applies to the states, there are still some very limited exceptions to it. But this just isn't one of them.
The First Amendment is no defense to conspiracy discussions about committing a crime, or defamation, or inciting imminent lawless action, or obscenity or copyright.
I don't see posting pictures of elderly Ma or Pa on that list. For this bill, if signed, to pass constitutional muster, the Supreme Court would have to create a wholly new category of restricted speech. Do you think they will do that? Or more importantly, did you even analyze that?
My guess is no since this bill passed 61-0, and there are more than a few lawyers in the Senate.
So, let's say, on disabled Ma's birthday you (a caregiver) hold a party for her, even though she can only semi-appreciate it. Then you share those party photos on Facebook for your friends and non-attending family members. Guilty of a misdemeanor.
You should note that the bill doesn't clearly say when the photos had to be taken. It's a crime if just three conditions are met: that the subject of the picture is a "vulnerable elderly person," that the person sharing it is a caregiver, and that the sharing is "without such person's consent."
So let's say that on Veteran's Day you share a photo of your disabled WW II father for whom you sometimes care. He's 20 years old in that long-ago-taken pic and in uniform. You are proud of his service (as was he) as part of the Greatest Generation. Guilty of a misdemeanor.
And the same is true for sharing any other photo for such people taken during their lifetimes: From childhood, parties, weddings (including their own), vacations, anything you can think of.
Since New York has about 20 million people, do you appreciate the scale of how many misdemeanors are being created for sharing a photo of a disable loved one? Even if the Supreme Court did create a new category of restricted speech for this, the bill is both vague and over broad.
If this was a new category of restricted speech — you can't post photos of incapacitated people without their consent — then the slippery slope also says it is OK to criminalize the posting of photos of other incapacitated people. Like kids. How many kid pictures are shared on social media?
The justification for this bill is that the posting of photos of disabled elderly people has become a problem:
Recent media reports have highlighted occurrences of a caretaker
taking unauthorized photographs or video recordings of a vulnerable
elderly person, sometimes in compromised positions. The photographs
are then posted on social media networks, or sent through multimedia
messages. Such action, dehumanize individuals and create an
environment that perpetuates a disrespectful and/or potentially
abusive attitude. Caretakers are required to provide care and services
in an environment that all individuals are treated as human beings.
How big is this problem that you think it justifies a change in the First Amendment that affects millions of people sharing loving photos of their elderly parents?