I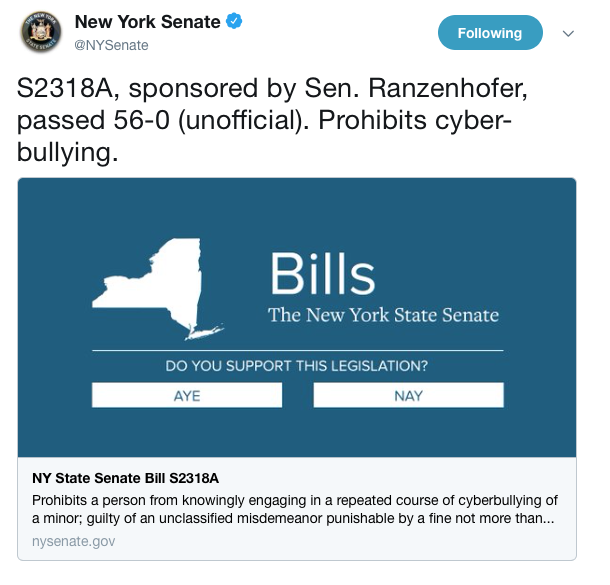 t's known in the New York Senate as Bill S2318. And it passed the Senate unanimously yesterday, by a vote of 56-0. Must be pretty good, huh? Unanimous!!!
It's an anti-cyberbullying bill and who would ever want to be against something like that! I mean, bullying is bad, cyber or not, right?
Just one teensy little problem seems to have escaped the drafters, however. This "cyber-bullying" that they wish to make a misdemeanor has a flaw. I'm almost embarrassed to mention it, but here goes.
Cyber-bullying doesn't seem to have a definition.
Here's the entire pertinent text:
 S 12-A. CYBERBULLYING. 
1. AS USED IN THIS SECTION, THE FOLLOWING TERMS SHALL HAVE THE FOLLOWING MEANINGS:
A.  MINOR SHALL MEAN ANY NATURAL PERSON OR INDIVIDUAL UNDER THE AGE OF EIGHTEEN.
B. PERSON SHALL MEAN ANY NATURAL PERSON OR INDIVIDUAL.

2. ANY PERSON WHO KNOWINGLY ENGAGES IN A REPEATED COURSE OF  CYBERBUL-BULLYING OF A MINOR SHALL BE GUILTY OF AN UNCLASSIFIED MISDEMEANOR PUNISHABLE  BY  A FINE OF NOT MORE THAN ONE THOUSAND DOLLARS, OR BY A PERIOD OF IMPRISONMENT NOT TO EXCEED ONE YEAR, OR BY BOTH SUCH FINE  AND  IMPRISONMENT.

There is, of course, lots of conduct that we can all agree is bullying, right?  A kid gets taunted by classmates for his less-than-personal personality, and it's a no-brainer, right?
Well, almost right. I mean, friends do this kind of stuff to their good buddies after all.  It isn't just for enemies.
But still, let's say it is an "enemy" of sorts — two kids that actually hate each other. How do they know where the line in the sand is located as to what is legitimate and what isn't?
So if Kid A wants to say that Kid B's support of Trump is "idiotic" or "moronic," or that Kid B seems to be a clueless asshat for believing what s/he believes, would that conduct, if done online, be cyber-bullying? How about if it didn't involve politics at all, and was purely personal?
Don't we have a right to call each other schmucks?
The lack of an adequate definition is an obvious problem, and one that is already known to New York because our top court struck down such a bill in 2014 in People v. Marquan M. — and that bill actually attempted a definition:
"any act of communicating … by mechanical or electronic means,"

"including posting statements on the internet or through a computer or email network,"
"disseminating embarrassing or sexually explicit photographs;"
"disseminating private, personal, false or sexual information,"
"or sending hate mail,"

"with no legitimate private, personal, or public purpose,"
"with the intent to harass, annoy, threaten, abuse, taunt, intimidate, torment, humiliate, or otherwise inflict significant emotional harm on another person."
How, exactly, is a person to know if their conduct/speech is a problem if there's no definition? We lawyers like to call such statutes vague or overbroad. They either don't tell you exactly what conduct is criminal (vague) or they word the statute so broadly it sweeps perfectly constitutional conduct into its orbit of criminal conduct.
And now we have version 2.0 of a bill with no definition, and this is supposed to be better than version 1.0?
Since the matter was covered by Eugene Volokh back in 2014 when its first iteration was deep-sixed by the Court of Appeals, I feel no need to re-write what he already tapped out on his keyboard. You can read it here:  New York's highest court strikes down cyber-bullying law
It was likewise covered by Scott Greenfield:  NY Court of Appeals Holds Cyberbullying Law Unconstitutional
And there's a Syracuse Law Review article on the subject.  And the NY Civil Liberties Union.
And, for the legislators that might not want to read the works of lawyers, there's even a Wikipedia entry for the case.
There is no point passing version 2.0 of a law that will one day be ruled unconstitutional.
I know it may look good to constituents to say  "We are trying to do something!", but it would be nicer to see at least a couple of folks say, "I'm not going to waste the taxpayer's money with a bill that most surely will end out on the trash heap.
Updated 6/12/18: NY Senate and Cyber-Bullying, Part 2