On Wednesday, I ran a parody of the Starbucks class action lawsuit regarding too much ice in the iced coffee. And yesterday I posted my explanation  as to why I did it: bad suits hurt good clients.
Now today comes a rebuttal from one of my friends, Marc Dittenhoefer. Take it away Ditt…..
——————-
Ok, so let's get some obviousness out of the way first so we don't have to waste any more time on it. Of course the "What, there's Ice in my Iced Coffee!" lawsuit is a bit of a dopey exercise, more than a bit of bad PR, and the latest in a long, long line of easy pickings for satirists, comedians, anti-civil-justice advocates and for dinner table conversations everywhere.
I get that. As a lawyer who has made his living for 40+ years representing harmed people in legitimate lawsuits, these sort of headlines rankle me, too, and do have their effects upon the judges and jury pools that I, too, must practice before. I was no happier than Brother Turkewitz to see this latest juridical jalopy come down the pike. "Whoa Nellie………not, again!!!
Nevertheless, when one thinks about it a bit there are a few legitimate points behind this lawsuit: ones that we should be spending a moment or two on before we jettison this plaintiff and move on to our next exercise in righteous indignation.
Coffee is coffee and ice is ice. One costs money – quite a bit it of it in places such as Starbucks, it turns out – and the other usually is at nominal cost or given free with a purchase. The reason and rationale for why some shops charge the public what they do for a Cup of Joe folks can get for under a buck at a diner is that there IS a difference: you are paying for a comparable amount of beverage which is more expensive to buy and brew than the diner's.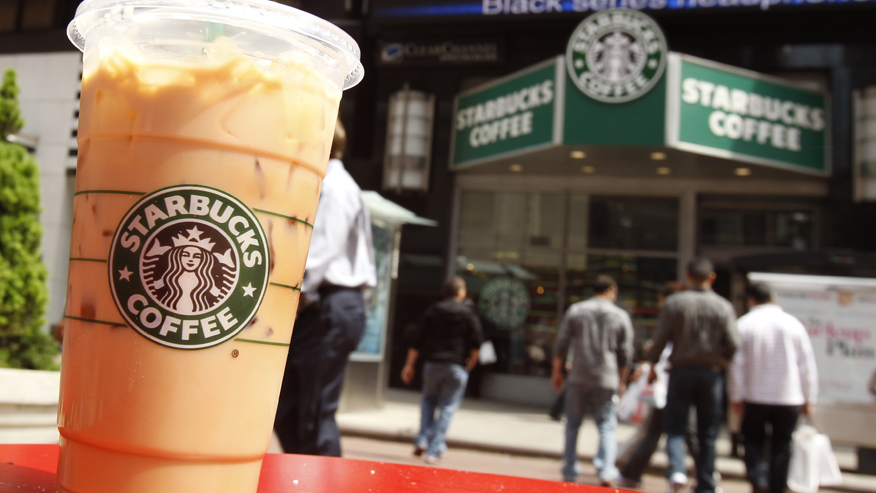 When someone plunks down $ 6.50 for a "venti" iced Blarfaccino, one has a (I hesitate to use such a lofty word in such prosaic a circumstance) right to expect the comparable 8, 12 or 16 ounces one gets in the diner version of iced coffee from 'round the corner, especially since the sizes of the various servings are posted, advertised and charged for by the Blarfaccino store itself.
It is no different than a can of soda, quart of milk or gallon of gas: what is listed on the signage is what you should receive for your money. But what if your can has only 7.9 ounces of soda, your milk a fraction less than a quart, your gas a tad shy of a gallon?
 To you, the individual Buyer it means perhaps not a whole lot: it might even be healthier for you over all – at least in terms of the coffee or the soda. But to the Seller ? By chintzing a bit on each of a hundred customers, all of a sudden you can sell 110 coffees from the ingredients that used to net 100.
That's a profit of 10 coffees that have been "stolen" from the clientele. Or 2 TVs falling off every truck; three Mercedes' off every shipload. Sooner or later, this adds up to some real money from out of the pockets of the unsuspecting and into the till of an already multi-billion dollar corporation. Not so silly any more, is it?
These scams have been done in business for as long as there has been business, and one of the valuable functions that government provides is to guard against such things, via regulation, inspection, quality control and mechanisms for enforcement and restitution. Thus is the "Class Action" invented.
Should a business — say a financial institution — devise a computer program that would take one cent each month from the account of each of its customers and automatically deposit it into the business' operating account, that would be a theft. Yet most customers would not ever notice it, much less be willing to file a Police Report over it, and no DA would start a criminal action for anyone's annualized loss of 12 cents. Multiply that amount however by a million customers, and you all of a sudden have a major revenue stream on your hands – or in your pocket.
An old riddle here is instructive: what would you rather have for your birthday, one million bucks or one penny doubled each day for a month? If you took the penny deal, you made the better bargain by far.
So yeah, the suit is dopey, but only in its poor choice of forum. This matter should be handled regulatorily by making Starbucks devise a way to ensure that the proper amount of paid-for coffee is served in their iced offerings. After all, the company that can invent a machine that grinds, brews, and serves up skatey-eight different types of coffee in 3 or more sizes each can certainly find a way to stock themselves with cups large enough to accommodate the proper amount of beverage WITH ice. It ain't brain surgery – it's just right. And this lawsuit says so.
As to the rest of it, considering Stella Liebeck's case against McDonald's I am convinced that the insurance, big business and and anti-consumer forces are not sitting idly by waiting for things like this to latch onto to further their PR campaigns. They are at it 24/7/365. This case might give them something to work with, true, but it also is one that highlights an area of abuse that could be redirected in a positive, pro-consumer way.
 We should be full-throated in our support, not necessarily of the suit but of the concept that a buyer should get what they pay for, and that sometimes recourse is needed when that does not happen. In this regard – although I am most certainly not of, by or for the "Tea Party" – they have a point. Free and unfettered access to the Courts to air grievances and correct wrongs is as much of a doctrinal touchstone as anything for the "Tea Party". Why not for coffee ?