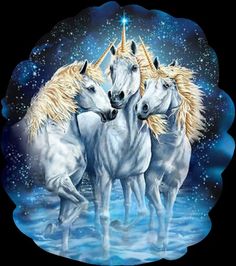 Guest Blog by Mike Greenspan
———————–
Another day, another scam. This time it deals with three unicorns.
Frankly, it's hard enough to be a plaintiff's personal injury law practitioner fending off the relentless efforts of the "tort reform" movement, the cynicism of juries and the saturation of the market with attorneys. So when lawyers have to face competition from runners; ambulance chasers  and the like, you can understand why so many of us are stressed out.
Today, we bring you our latest entry into our Hall of Shame, a trio of actual unicorns -Jose, Lisa, Mark, Marie and the rest of the gang over at Personalinjuryattorneyrocklandcounty.com.  No, we won't give this a link.
What? You've never heard of them? Funny that you should mention it, because neither had we.
Imagine that you were injured and you were looking for a well qualified attorney based in Rockland County, New York to sue the company you thought responsible. A quick Google search for a personal injury attorney in Rockland County brings up a number of results that unsurprisingly includes personalinjuryattorneyrocklandcounty.com because of the matching keywords.
You click on the site and see a banner inviting you to "Discuss your criminal defense and personal injury legal matters with skilled, experienced lawyers." What follows is a seemingly impressive lineup of attorneys: Partners Jose Anderson, Lisa Wilson and Mark Thomas have each been practicing for over forty years.
Jose's biography tells us that he has " recovered tens of millions of dollars in verdicts and settlements for victims of personal injuries."  (How exactly does one become a "victim of personal injuries?")
Glowing testimonials appear on the site such as this gem
From my initial contact with Lisa, I immediately develop huge respect for her. She was explicit with her information, as direct as can be. She explained what you would be up against, what to expect and what not to look out for.
With credentials and testimonials like those, you'd think that the seriously injured in that area would be jumping out of their hospital beds to call and get an appointment with these folks. There are even two offices to contact in case you wanted to do just that.
So what is the issue? Well, there a just a few wee problems that we thought to highlight:
1. New York Law prohibits attorneys from practicing under a trade name.
Yeah it is a bummer that lawyers cannot advertize under a trade name in New York like they do in other states such as Arizona, Florida or Louisiana so you won't find kickasslawyers.com or "TheArizonaDUITeam" here in the Empire State (Rules of Professional Conduct 7.1 ). So right away, we have an issue with Jose and his buddies doing so in our neck of the woods.
2. New York law prohibits the portrayal of a fictitious law firm. 
That big, fat, no no is right there in black and white in RPC 7.1(c)(2). This so called law firm is fictitious, because….
3. These "attorneys" aren't licensed in New York.
Really? After all Jose supposedly graduated St. John's Law in '71 and claims to be admitted to practice in New York since '72 and has even made it all of the way up to the Supreme Court!
Sadly, this is news to the Office of Court Administration who has no record of an attorney by the name of Jose Anderson nor is there a record of a Lisa Wilson, or a Mark Thomas being admitted to practice in New York – ever. Run a search yourselfand see. We do recall learning about something known as the unauthorized practice of law and how that is generally frowned upon by the authorities. This sure looks like the unauthorized practice of law to us.
When we said unicorns we weren't kidding — these attorneys simply don't seem to exist.
4. The registrant of the domain name is hidden
Yeah, that is another problem here because if you have a website in New York, the information is supposed to contain some important information and hiding the owner of the site is prohibited. That hasn't seemed to bother Lisa and Jose (perhaps Mark, but who knows?). A search on whois.com reveals that the registrant used a service -whoisproof LLP to register the name anonymously. Now why would they do that? Hmm
5. The Phone Numbers go right to voice mail.
Try it for yourself. Call the New City number (845) 335-4345 or the Spring Valley number (845) 520-5075. See if you can in to see one of the trio grande of " skilled and experienced attorneys ."
So somebody has taken a lot of time and effort creating and editing a website devoted to attracting potential personal injury clients while disguising their true identities. We say editing , because the website has undergone revisions since the summer of 2015 when it blatantly copied sections of text from legitimate websites of New York City area law firms and placed that text in its practice areas. That text and those references are no longer present on the site.
We sure would like to find out…
Who is returning the phone calls left on the website's two phone numbers?
Is there someone who goes out and meets with the unsuspecting people who call looking for a lawyer?
What lawyer or law firm is signing up these people and undertaking to represent them in court?