This post asks lots of questions; it doesn't necessarily answer them. It might make a decent bar exam question.
At 6 pm last Friday, a Metro-North commuter rail train derailed and was then hit by another one in Bridegeport, CT. Many injured, and thankfully no one killed.
For those that don't know, this is the busiest commuter railroad in the nation connecting New York City's Grand Central Terminal with numerous points north (up into New York) and east (into Connecticut). I ride this system almost every day, on the same line where the collision took place, but closer to the city and thus unaffected.
This is a New York train system, with Connecticut owning its the rails and stations on its turf and Metro-North maintaining the entire thing.
Enter, stage right, the lawyers, many of whom would like to sign up the cases, especially since the National Transportation Safety Board will do all the hard work of investigating, and no one can blame the injured passengers.
That means it's time for some folks to advertise. I've written on this subject many times in the past, in the wake of a Metrolink accident in California, a plane crash in the Hudson River and in Buffalo and a Staten Island Ferry collision with a pier. Do Attorney Anti-Solicitation Rules Work? (A Brief Analysis of Three Disasters)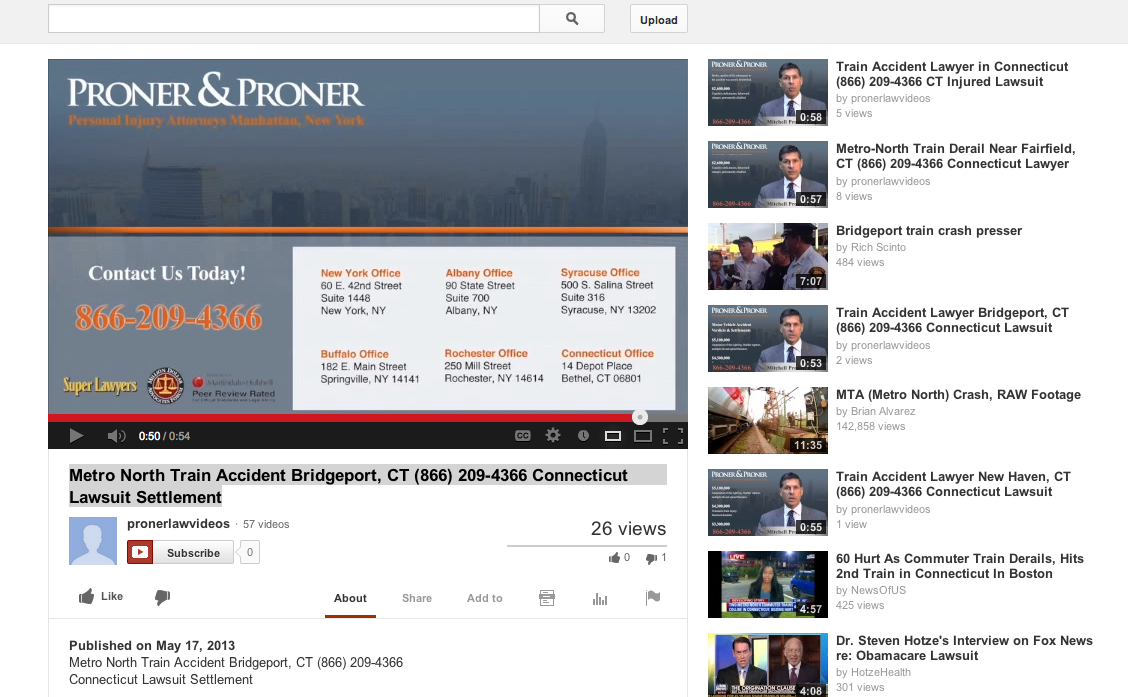 I did a quick search and, it didn't take me too long, stumbled on a YouTube ad for the firm of Proner and Proner. A screen grab is to the left. The video part is generic lawyer advertising about what they do and how long they have done it. You will not be impressed.
But.
The web copy under the YouTube ad, posted the same day as the derailment/collision, says:
Metro North Train Accident Bridgeport, CT (866) 209-4366 Connecticut Lawsuit Settlement
And as you can see in the right side bar of the YouTube commercial, there seem to be five such ads. They all appear identical, except for different keywords used in the titles. The law firm marketeers were obviously all over this.
By way of background, before you read the question below, this is New York's 30-day anti-solicitation rule:
Rule 4.5(a) In the event of a specific incident involving potential claims for personal injury or wrongful death, no unsolicited communication shall be made to an individual injured in the incident or to a family member or legal representative of such an individual, by a lawyer or law firm, or by any associate, agent, employee or other representative of a lawyer or law firm representing actual or potential defendants or entities that may defend and/or indemnify said defendants, before the 30th day after the date of the incident, unless a filing must be made within 30 days of the incident as a legal prerequisite to the particular claim, in which case no unsolicited communication shall be made before the 15th day after the date of the incident.
So here are today's questions, given that this is an accident in Connecticut, not far from the New York border. One train was headed toward New York and one was coming from here:
1.  Which rules on solicitation and advertising govern?  New York has its 30-day anti-solicitation rule for mass accidents. The site of the collision is Connecticut. Do the rules differ depending on the location of the lawyer, the victim or the incident?
2.   Proner and Proner claims to have five offices in New York,  and one in Connecticut.  Yet their website, which I won't link to, lists only two lawyers. Yeah, I smell marketeers at work here also trying to make a small firm look big. Must they comply with New York's anti-solicitation rules as they race after Connecticut clients?
3.  Metro-North is a public benefit corporation incorporated in New York.
4.  Is there any doubt the ads target New Yorkers (in addition to others)?
An interesting bit about our rules is that there is a separate area that defines solicitation is (Rule 7.3), making no mention of the location of the client, the defendant or the incident:
Rule 7.3(b)  For purposes of this Rule, "solicitation" means any advertisement initiated by or on behalf of a lawyer or law firm that is directed to, or targeted at, a specific recipient or group of recipients, or their family members or legal representatives, the primary purpose of which is the retention of the lawyer or law firm, and a significant motive for which is pecuniary gain. It does not include a proposal or other writing prepared and delivered in response to a specific request of a prospective client.
And in another that rule proscribing solicitation there is a separate part that is specific to soliciting people in New York:
Rule 7.3(c) A solicitation directed to a recipient in this State shall be subject to the following provisions:
Does that mean that the 30-day rule is for those admitted in New York, regardless of whether the client is in New York?
The thought of this law firm (probably more, I didn't look) racing on the very day of the collision to get its advertising up and running, no doubt while rescue was still underway, reminds me of the Staten Island Ferry collision of 2011 that killed 11. There were law firms, at the time, racing to put ads in the Staten Island Advance before the late afternoon deadline on the day it happened. People were still trapped on board the vessel. It was just that type of unseemly conduct that gave rise to New York's 30-day rule.
Will Proner and Proner, or another firm, be the poster child for yet more regulation? I don't know, but I also have no doubt that an investigation would find much, much more going on than the small snapshot that I write about today.
On a final note, this type of conduct takes places with only a very few firms. Yet, as with most things, it is the outlier actions of the few that tarnish the image of the majority.
My two drachmas for the day.