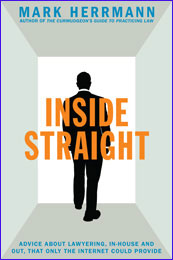 For those of you that don't know, Inside Straight is a column over at Above the Law written by Mark Herrmann.  Hermann is a former BigLaw partner at Jones Day, former blogger at Drug and Device Law, and author of the terrific Curmudegeon's Guide to Practicing Law. He is now chief counsel for litigation at insurance behemoth Aon, having elected to go in house.
Many of his posts from Above the Law have now been collected in a book format. Given that the focus of the book is the relationship between the legal departments of large companies and BigLaw shops wooing their business, is it worth reading for the small guy in the personal injury field? If you thought no, you would be thinning wrong.
While much of Herrmann's substance involves the inner workings of that relationship, I nevertheless find the book engaging. (I'm half way through.) And there is only one good reason for that: He's a terrific writer.
His ability to engage the reader becomes obvious if you attempt to read some of the Above the Law comments that were excerpted from the web site to go with each column in the book. Leaving aside the trashy nonsense comments for which ATL is (in)famous, I found the those who responded on substance generally bored me. It was only Herrmann's writing that was of interest.
A sample column had to do with how BigLaw sells itself to inside counsel to get the high paying gigs. Herrmann gave the time honored advice that I learned many years ago, "Show, don't tell." Which is to say that persuasion comes from marshaling facts, not pretty  prose.  Telling someone you are a great trial lawyer is one thing; showing them a list of cases you've tried and the results is something else.
That advice crosses all lines in sales. Do you want  car salesmen to tell you the car is best in class, or do you want them to compare the mpgs, repair rates, and included widgets to others you might be considering?
Since I deal with insurance companies all the time, I do feel in some sense that I'm being given a behind the scenes look at some of the things that go on, and the politics of various relationships.
Herrmann is a good read, and because the book is a collection of blog posts, the chapters are easy nuggets to chew on at your leisure.