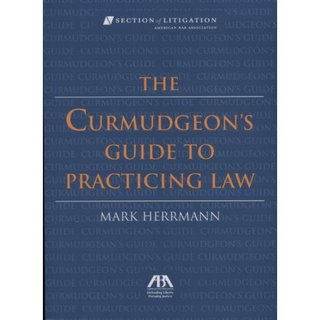 I've been a bad blogger. I read a great book on the law. I wanted to blog the book. I told the author I liked it and would blog it. And then other stuff got in the way and the little review of the little book never got done. And when I say it "never got done," I mean, I didn't do it.
That book is the exceptionally well written Curmudgeon's Guide to Practicing Law by Mark Herrmann. Herrmann is one half of the tag team duo that write the well regarded Drug and Device Law Blog. In his spare time he's a partner in the Cleveland office of Jones Day defending drug and medical device companies from all manner of claims that come from my side of the bar.
But don't let his defense orientation deter you from reading this book. The Guide should be required reading for all newly minted associates. This is not only true for BigLaw but for small firm life as well. Anyone hiring an associate should hand that associate a copy on the first day of work. The book would also be a welcome refresher for those getting a little long in the tooth. In fact, some that are longer in the tooth would do well to read this primer, particularly for its emphasis on writing style and the art of persuasion. I've seen plenty of old habits that desperately need to be broken.
The Guide, which can easily be read in an evening, gives pointers on briefs, depositions, appeals and style that should instantly improve the talents of most members of the bar. The fact that it's also funny makes it especially easy reading.
How do I know it will improve the talents of most lawyers? Because as I write this review, another book is coming out, by Justice Antonin Scalia and Bryan Garner, on persuasive legal writing. And while you certainly know who Scalia is, and probably know that he knows how to write, most lawyers have no idea who Garner is. And Garner is the one that, with the help of judges across the land, exposes much of our legal writing as crap.
Garner is one of the leading authorities on persuasive legal writing, whose continuing legal education classes I've taken twice. A lawyer will learn more about writing from Garner in one day's class than s/he will learn in three years of law school. The videos from judges shredding the writing of people who claim to have law degrees, but can't seem to identify the issues they wish to present, is shocking. It also gives a person confidence that s/he can excel in the profession, if for no other reason than the bar of the bar is set pretty low.
And Herrmann, with his little Guide, proves himself to be a close cousin to that guru of legal writing with his emphasis on keeping the lawyer's work short and clean. It's not just the content of his book that is important, but the way it's been written. Being knowledgeable on the law is useless without an effective means of communicating that knowledge. And Herrmann demonstrates that he knows a thing or two about communication.
Both writers would make quick work of the overly pretentious and wordy nonsense that comes off the keyboards of so many. ("Enclosed herewith from the undersigned, please find the previously discussed document. Said document is enclosed for your consideration relating to my agreement to forward said document to your attention blah, blah, vomit, vomit, alphabet soup acronym, more useless words.") Both writers, incidentally, have also taken on one of my pet peeves, the voice mail with the phone number spokensofastyoucantunderstandit.
The little Guide has already sold 20,000 copies. Not too shabby for a law book published by the American Bar Association, and enough to make it an instant classic. And while I've never met Herrmann, I feel safe in saying he is much too young to be an actual Curmudgeon, since he's only a couple of years older than me.