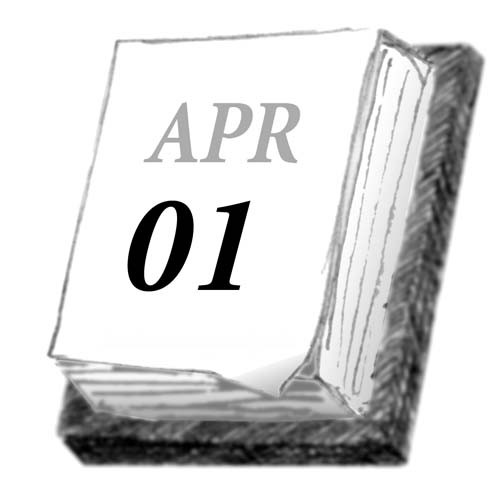 Yeah, yeah, I know, it's April Fool's Day and you expect me to run a gag, simply because I've done one each of the last four years. But you know what? Fuhgeddaboudit. It isn't easy pulling off a hoax when people are actively looking.  And with this being Sunday, even if I did run one, it wouldn't get any traction.
So it's time to retire and simply rehash my prior four gags for the few people looking in today:
I started in 2008 with a decent one about the Supreme Court granting cert in an existing fantasy baseball lawsuit. As I told it, many of the judges were in a Supreme Court fantasy league. Some recused themselves feeling there was a conflict while others did not. The subtext of the gag was the very real issue of when SCOTUS justices recuse themselves and the fact that those decisions have no review at all. That nabbed a bunch of people who didn't see it coming.
I followed up in 2009  when I put this blog this blog up for sale on eBay. The subtext there was the wretched state of social media and constant use of blogs to sell, sell, sell.
In 2010 I did a fun gag that snared the New York Times when I announced (with considerable support from co-conspirator blogs) that I had  been appointed White House law blogger. I also learned something else; readers were actually checking in that morning to see what kind of stunt I would pull. How early did they check? Well, the ABA Journal ratted me out at 6:46 a.m. central time. I was lucky that the joke still had legs, thanks to all those that were in on the conspiracy and "confirming" my appointment (and that the Times didn't find the ABA posting with a simple Google search).
But when you add in the considerable post-joke kerfuffle that took place about whether such jokes are ethical violations, that it was the subject of a Disciplinary Board comment from the Supreme Court of Pennsylvania, and then add that the joke landed in a New York Times mea culpa editorial,  it became clear to me that my days as an April Fool's gagster were just about done. Too many people were watching.
Last year I was able to run just one more, by organizing a web ring of 23 blogs to laugh about how the Times was, incredibly, taken again. The joke was on the thousands of readers who — eagerly wanting it to be true — went running from blog to blog to find out exactly how the Times was punked. The Times wasn't; those wanting to laugh at the Times for getting taken learned that the joke was on them.
I think most will agree that the time to hang up my jester's hat has arrived. I won't use this blog today for an April Fool's gag. But fear not, someplace out there on the web there are hoaxsters and pranksters of all stripes with their digital whoopee cushions. And someplace, somewhere some folks will get gotten because they weren't wary, or if the gag is really good enough, despite it. It just won't be here.
My apologies if that is what you came looking for. If you're looking for a legal chuckle, you can check out the legal disclaimer I'm in the midst of drafting it for my trail race. Yes, it is real, even if it still needs a few edits.