I do not come to praise Rick Santorum, nor condemn him. But I'm here to defend him.
What? You don't believe me?
This is the brief backstory on recent criticism of Santorum: His wife Karen — a non-practicing attorney, nurse and mother of three at the time —  brought a medical malpractice case  concerning a violent chiropractic manipulation in 1996. (Santorum Malpractice Complaint). It resulted in a herniated disk in her lower back that required surgery. She sued for $500,000, and a  jury awarded her $350,000 in 2000. The judge subsequently reduced it to $175,000.
Given Rick Santorum's prior advocacy of a $250,000 cap on malpractice cases, folks have screamed hypocrisy ever since.
With Santorum almost winning the Iowa caucus, and set, perhaps, to do well in South Carolina shortly, more attention is being paid to him as a potential Republican nominee, and this tort "reform" issue has reared its head again. (See, ABC News from 1/6/12,Rick Santorum in 2005: Double Talk on Tort Reform?)
On Friday, my friend Jordan Rushie sent this tweet my way: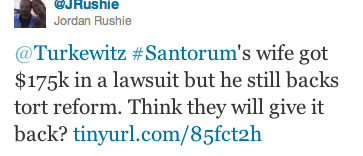 It's time for me to defend Rick Santorum against charges of hypocrisy for his wife's suit. Because I don't think he earned it.
First  up, spouses are entitled to have differing opinions.
Exhibit A –> High profile Democratic consultant James Carville is married to high profile Republican consultant Mary Matlin.
Exhibit B –> George Bush was anti abortion and gay rights. But Laura Bush supports both.
Now look at your own family and ask yourself if everyone agrees with everyone else. Do I really need to say more? Rick was not a party to Karen's suit, so you can't honestly call him a hypocrite  for it (unlike, for example, Judge Robert Bork and his slip and fall suit). And it's foolish to suggest that the chiropractor gets immunity from negligent conduct simply because the patient's spouse has a different political belief on this issue.
Second up: Rick testified at his wife's trial, doesn't that make him a hypocrite? Answer, no. He was a fact witness. Fact witnesses offer up their observations. He testified, according to the post-trial memo, about how the pain restricted her ability to care for their children, restricted her activities, and was a factor in significant and demoralizing weight gain. He could, technically, have been subpoened to testify if he refused to voluntarily come to court. I doubt that happened, of course, as he probably doesn't want to sleep on the couch.  While it would be easy to simply quip "happy wife is happy life," the legal reality is that he had no choice but to testify if that's what one of the parties to the suit wanted. If Santorum witnessed your auto accident, you could force him to testify no matter how much you like/dislike him.
Third up: He probably gets to enjoy her money, doesn't that make him a hypocrite? The answer again, is no. This issue of  money comes up often in the personal injury field, of course, as people want to know what will happen if a claimant prevails. But the money isn't a prize, nor a lottery, nor a windfall of any kind. (And it isn't "winnings" as Shpoonkle thinks.) It's compensation. Someone suffered a loss and the money is designed to make that person whole.
Does it matter if Karen shares the money with Rick? Of course not.  I would never tell people what they should do with money they've received as compensation in a lawsuit. If Karen wanted to donate it to a charity, she could. If she wanted to spend it on her kids or her husband, she could. If she wanted to squander it on fast cars and loose woman, more power to her and let's sell a few tickets. But it isn't for us to say what she should do with her money that was awarded simply to make her whole.
Are there times when a jury gives an outlier verdict that's way too high or way too low? Sure. And that's why, in Pennsylvania, the judge was empowered to order a new trial if Karen Santorum didn't accept a lower award. That's the way the system is supposed to work. There's no need for a one-size fits all cap when there is already a three-tiered system to protect litigants: 1) jury; 2) trial judge; and 3) appellate court. And that is the way New York also works (See: How New York Caps Personal Injury Damages). Ironically, the very outcome of the case, with the judge knocking down the award, is stark evidence that Rick Santorum's own ideas of artificial one-size-fits-all caps are utterly unnecessary, and would only further victimize those who've been most badly injured in the first place. (See: Does Tort "Reform" Kill Patients?)
In sum, there is no colorable argument on why the courthouse door should have been slammed shut on Karen Santorum. And if she can't be faulted for bringing the suit, then her husband really can't be called a hypocrite because of it. We should not be in the business of looking for ways to give protections and immunities to those that injure others. Our civil justice system is built on the concept of personal responsibility.
There may be, of course, plenty of reasons for people to say negative things about various candidates and their tort "reform" platforms, though it always seems to be Republicans that advocate them. Despite  all of the cadidates running on small-government platforms, most (all?) advocate big government protectionism  for those that injure others through negligence. And they advocate such federal intrusions on purely intrastate matters.
Why would  small-government candidates prostitute their principles on this issue? I have only one viable explanation: That the lure of campaign contributions from Fortune 500 companies that are most likely to benefit from an evisceration of the civil justice system is just too great. And when substantial amounts of money talk, principles fall by the wayside.
I've addressed this topic numerous times, and won't bother to repeat it all here. But when so-called small-governement candidates use tort "reform" to woo Tea Partiers and other conservatives, then I think they face serious hypocrisy problems by advocating big government protections for people or companies that injure others. And for more on that, you can read this: Does the Tea Party Believe in Conservatism or Tort "Reform"? (8 Questions). See also: Second Tea Party Leader Opposes Federal Tort Reform from Andrew Cochran at 7th Amendment Advocate.
———-
See also, the transcript of a radio interview on this subject from 2000: Santorum On Tort Reform.
Hat tips to Jordan Rushie, Christopher Sawyer, and Ben Glass (source of documents), who may not agree with my conclusions.