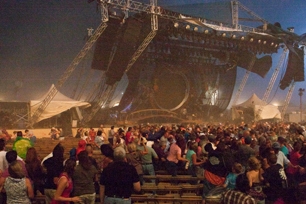 Back in August a stage collapsed at the Indiana State Fair as the band Sugarland was about to take the stage. Seven were killed and dozens more injured. And now the State of Indiana is waltzing away from that tragedy having paid a mere $5M in total to 63 of the 65 victims and their families. For the families of those killed, a paltry $300K. If one of those killed or badly injured was a parent, that money will vanish quickly.
Why $5M? Because Indiana decided to limit its responsibility when it handed itself this brand of immunity and protection. A State distancing itself from its own responsibilities as people are killed on its property under its watchful eye? Sounds an awful lot like the old Soviet Union. (Ironic that this tort "reform" stuff is pushed by so-called conservatives, no?) Hey, Indiana don't need none of that stinkin' personal responsibility crap. That's for the little people.
So even if there were 100 victims, the answer to them would be: Too bad. Go suck an egg. Get lost.  And let's hoist the hammer and sickle flag.
This is the brutality of arbitrary damage caps. So find your local tort "reformer" and give him a pat on the back for figuring out how to further screw the injured.
And what of the children of those killed or badly injured? What happens to schooling, healthcare and home? By tossing these children aside like so much waste — and make no mistake about it that's what Indiana is doing — are they more likely to become productive members of society or less likely?
Welcome to Indiana. It's also like the Dark Ages. But with basketball.