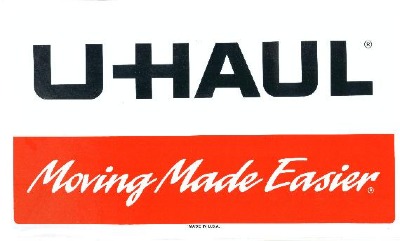 Maybe once or twice a year I use this blog to gripe about some consumer issue. Consumer issues aren't 100% in my wheelhouse, but they are a close cousin to personal injury law. Last year it was snowboarder Tony Hawk, and before that it was Ink Jet Superstore. It's my blog and I get to do that kind of thing.
Today I'm going to kick the fenders of U-Haul for its incompetent customer service. As regular readers know, I've been ultra-busy lately in my non-lawyering life being the Grand Poobah of a half marathon trail race that I founded (reviews of the race here). And to put that race on, I had to rent a van to haul around all manner of stuff for the almost 500 runners and 100+ volunteers who showed up. I made the mistake of picking U-Haul instead of a local company.
So what happened last Friday morning when I went to pick up the van, needed immediately to go fetch and  haul many hundreds of medals, awards, goody bags, water bottles, signs, shirts and other stuff? The nice  U-Haul guy says that he can't rent to me yet; I have to call a special customer service number first.
Grrrrr. I'm in a rush. So I call, because I have no choice. And you know where this is going, right? Who has success calling customer service for anything, unless it's Apple you are calling?
I finally get through after 15 minutes — I hear the phone go out of auto mode and it rings! — and then disconnects.
Grrrr. So the nice U-Haul guy – who is not to blame as he is following the computer orders or he loses the franchise — calls another number for me. And 15 minutes later I hear it disconnect. I'm ready to explode.
After about 45 minutes of grinding my teeth, pacing the floor and steam blowing out my ears, I get an actual,  living, breathing, human on the phone, who tells me that there is an outstanding parking ticket for last year for $80 for the van Mrs. Poobah picked up. I tell said person that we never received this phantom ticket, but that that we did get a notice in the mail sometime after. That notice came from Vengroff, Williams & Associates, a Florida law firm.  I immediately wrote to them for a copy of this phantom ticket so I could see if it was legit or not. I even put it on my office letterhead, in my capacity of representing Mrs. Poobah. But nothing ever came.
And there the issue lay dead. Until this year when I was finally told by some stony-voiced lady, an hour into my efforts to pick up this stupid van, that if I didn't pay this $80 — which seemed to be ransom I had to pay to get the van we had reserved — then I would not get the van. So I said I would pay it if they sent me the phantom ticket. And I gave U-Haul the credit card info. I was not pleasant about it, though an hour earlier I no doubt would have been. Their agent promised to send me the ticket.
But they once again failed to send me a copy of the phantom ticket.
So there you have it: Another company that thinks customer service simply doesn't matter. I say it does. I toyed with the idea of calling U-Haul to find the right person to straighten this out, but if I couldn't get through the first time with any level of efficiency, why would I succeed now? Why spend an hour on the phone when I can write about this is just 20 minutes? And the irony is that their Twitter name is @UHaul_Cares. Maybe the company cares more about pretending to have customer service than actually having it.
Over at Simple Justice, Scott Greenfield has been gnashing his teeth about a crappy KitchenAid refrigerator and  his attempts to get one that works that hasn't been dropped.  Then Greenfield took to Twitter to blast them up, down and sideways. If he has to waste days at home waiting for phantom rapairmen or deliverymen, well that gives him time to talk about KitchenAid's failings. And now his refrigerator has its own hysterical Twitter feed (and now its own website) and the fridge has even been interviewed. (Update: Greenfield has now updated with a post exemplifying the utter failure of   customer service: KitchenAid "There's Nothing Else We Can Do.")
Once upon a time, if you had a gripe against Big Corp., you could spend your days standing in front of their HQ with a picket sign for the world to see. But that world has changed.
Maybe one day corporations will get  a better grip on this whole customer service thingie and the power of the individuals to self-publish to the world.
Update (2:50 pm): I emailed U-Haul customer service after this Twitter exchange:
@Turkewitz: @UHaul_Cares You don't really think I'm going to call a UHaul 800 customer service number again? Didn't you read? bit.ly/pHfgwQ
But despite emailing them, no word back.  So I got curious and Googled around a bit and found other horror stories about the company…I bet there is more out there, when I get the time maybe I'll link to them too…
I Hate U-Haul Truck Rental (And so does everybody else)
Update #2 (10/9/11) – U-Haul finally sent me the ticket, a year after it was issued and eight months after I learned of it and demanded a copy. The citation was issued the day after we returned the van and on a street where we never took the van. And, more importantly, despite my calls to customer service being cut off twice after about 15 minutes each, without ever speaking to a human, I was told their 800 numbers were "in working order." If the numbers are in working order then that means the customer service agents are not.
Update #3 (10/10/11) — U-Haul has reversed the $80 charge and apologized to me. One other thing worth noting, since the money is obviously the smaller of the issues: I don't yet have an answer as to why their customer service reps kept cutting me off. They claim that they are investigating. If I get a definitive answer I will do another update. My best guess — and it's just that, a guess based on a general perception of corporate stinginess when it comes to customer service, unless the company is named Apple — is that they are understaffed and overworked and that some folks were "clearing" the lines. It is possible that a rep or two could get blamed, when a larger issue might be a company trying to add a penny or two to the bottom line to make Wall Street happy, and done at the expense of customer service. I'd love to be proven wrong.
AMERCO is the holding company for U–Haul International. Stock: UHAL on NASDAQ.