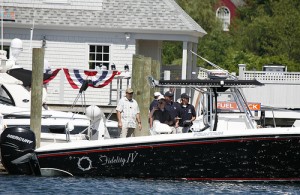 The Associated Press reported on a boating accident last week involving the elder George Bush. This is the way the AP phrased it:
KENNEBUNK, Maine — Former President George H.W. Bush's fishing boat ended up high and dry on a beach near his Maine home after it ran aground in thick fog.
Now what is so wrong about that that it inspires a blog post? I'll tell you. The boat didn't just run aground. Someone most likely caused it to run aground.
Let's take that language now into the courtroom, and consider an accident at an intersection. This is the way two skilled trial lawyers will try to present it:
Defendant: The accident happened.
Plaintiff: The Defendant caused this car wreck.
For the most part, accidents don't just happen. I dealt with this back in May when Kentucky Republican Senate candidate Rand Paul seemed willing to give a free pass to BP and its friends who dumped so much oil into the Gulf of Mexico. He wasn't happy that President Obama criticized BP:
"And I think it's part of this sort of blame-game society in the sense that it's always got to be somebody's fault instead of the fact that maybe sometimes accidents happen," Paul said, who is a darling of the Tea Party movement.
It's true that acts of nature may take over, such as the lightening strike that fells a tree right into the path of a car. One might argue that acts of nature are even more likely at sea, given waves and fog, but it is just those types of foreseeable risks that a captain must consider. Only something unexpected would allow the act of nature defense to come into play.
Acts of nature are not how most accidents occur. Returning to former President Bush, the article goes on to give this explanation:
[Bush spokesman Jim] Appleby says Bush was close to shore in low visibility when a wave pushed his boat onto the beach.
It seems to me that if he was running his boat in low visibility it really isn't fair to blame the boat ("it ran aground").
And that type of passive language is just the thing that plaintiffs' lawyers should be on the look out for and ready to counteract. "It" didn't just happen. Someone most likely made it happen.
Photo credit: jcfmbost, via Flickr