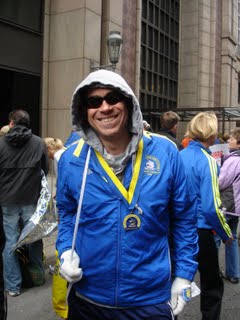 We interrupt this law blog to bring you a special report. Here now, coming to you live from his desktop…
To those running the 114th edition of the Boston Marathon this coming Monday, I wish you good luck and cool temperatures.
For those of you that don't know, it is the oldest annual marathon in the world and the only one other than the Olympic Trials that has qualifying times to gain admittance. It is, in the minds of many, the Holy Grail of long distance running.
But I not only wish you luck, but hope that you'll have as good a time as I did last year during this 26.2 mile long party. My recap from last year, to get you in the proper mood:
Boston Marathon (Drinking Beer, Kissing Wellesley Women and Abstract Journeys)
For those who are running, or seeking inspiration for a future attempt, a few extra links:
Martin Duffy: The End of an Unintended 40-Year Boston Streak:


…Life is a little like the Boston Marathon. It is an allegory from bucolic Hopkinton through Natick, Wellesley and Newton to the City on the Hill, Boston. And in the beginning, you get lulled by its ease. From Hopkinton Green, the course opens downhill. It starts easy — maybe way too easy. And so you overdo and thrill in the fast miles. The hills and the challenges are down the road and way in the future…
The Allure of the BQ: Why the Boston Marathon Keeps Me Running:


…I get asked from time to time what makes Boston such a pinnacle for runners. My answer is simple: it's a pinnacle because it's hard. There's no lottery, and you can't simply just sign-up for the race. You need to earn your way there, and that is exactly what I'm determined to do…
Boston Preview: Updates:


Since last week, there have been several significant changes to the Boston elite start list…
Last-Minute Advice for Boston Marathoners:


Nothing but strength and determination will help Boston Marathon hopefuls get over Heartbreak Hill on April 19. But this roundup of tips from runners who've braved the the famous marathon may provide some last-minute ideas that will help your overall race-day strategy..