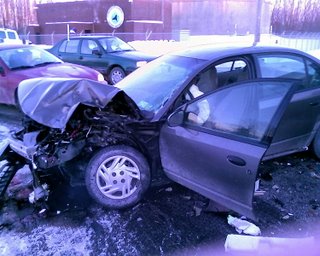 Today's case solves a quirk in New York's No-Fault law regarding the "serious injury" threshold that must be met in order to bring a lawsuit. That threshold was established in the '70s in order to cut back on the number of personal injury cases that resulted from car accidents.
So here's the question: If the threshold is met under one category of injury, can other categories of injuries be considered by the jury? For example, if the jury finds the threshold has been met with a fracture of the finger (#4 below) but that the back injuries didn't qualify as a "Significant limitation of use of a body function or system" (# 8 below), can the back injuries be considered by the jury in assessing damages?
These are the categories that the legislature says define "serious injury" under New York's miserable No-Fault law:
A personal injury that results in death;
Dismemberment;
A significant disfigurement;
A fracture;
The loss of a fetus;
Permanent loss of use of a body organ, member, function or system;
Permanent consequential limitation of use of a body organ or member;
Significant limitation of use of a body function or system; or
A medically determined injury or impairment of a non- permanent nature which prevents the injured person from performing substantially all of the material acts which constitute such person's usual and customary daily activities for not less than ninety days during the one hundred eighty days immediately following the occurrence of the injury or impairment".
This issue arose in Rubin v. SMS Taxi, decided yesterday by the Appellate Division (First Department). Defendant had moved for summary judgment claiming that the plaintiff didn't meet the No-Fault threshold. The lower court granted the motion for all injuries except for the significant disfigurement that the plaintiff suffered. The court then denied plaintiff's motion for clarification or reconsideration,wherein he wanted to know if, having met threshold in one category, he could proceed to argue all the injuries.
And the First Department reversed with respect to the motion to clarify, and held unambiguously that
"once a jury determines plaintiff has met the threshold for serious injury, the jury may award damages for all of plaintiff's injuries causally related to the accident, even those not meeting the serious injury threshold."
In its decision, the court also cited to a Second Department case (Marte v. New York City Transit Auth.) as support.
Without question, it's an important principle to remember for all practitioners: You only need to prove one of the categories falls within the serious injury threshold to then proceed for an assessment for all of the injuries that were causally related to the accident.