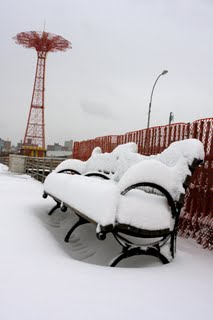 Courts in New York City are closed today for the snow storm, as they are in various places up and down the eastern seaboard. So what happens if the statute of limitations expires today, and the courts are closed?
I popped that question to David Gottlieb, who runs No-Fault Paradise (and theCPLRblog). In the comments of this post: Snow Day? he tackled the issue.
And the good news for New York practitioners (and their clients): We are safe. He found Martin v. J.C. Penney Co., Inc. 275 A.D.2d 910 (App. Div., 4th, 2000), which arose when the courts in Buffalo were closed for a storm on the same day the SOL was to run. We get the extra day because Judiciary Law 282-a provides that,
"[w]henever the last day on which any paper is required to be filed with a clerk of a court * * * expires on a Saturday, Sunday, a public holiday or a day when the office of such clerk is closed for the transaction of business, the time therefor is hereby extended to and including the next business day such office is open for the transaction of business."
Check out comment #2 of his post for the decision. So unless someone can challenge the power of the court to close itself down, you're good.
Of course, it would be slightly better practice NOT TO WAIT UNTIL THE LAST DAY TO FILE YOUR PAPERS.
That is all.
Coney Island stock photo credit: Dan Turkewitz