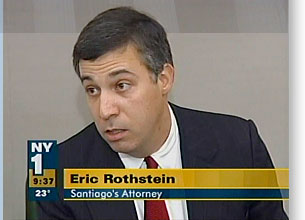 The day after Michael Jackson died I speculated about a very rare prosecution; that of a doctor for the death of a patient. I later explored two other risks that Dr. Conrad Murray faced, one for malpractice and one for his license (see: Michael Jackson: Malpractice or Manslaughter (Or Something Else?). Now Dr. Murray has been charged with involuntary manslaughter, clearly the most significant of the three risks.
With the concept of such rare criminal prosecutions firmly in mind, we re-visit the death of a patient 17 years ago at the hands of a New York doctor in this guest blog by Eric Rothstein. He was a young prosecutor in the office of the Queens District Attorney that charged Dr. David Benjamin with second degree murder.
———————————————-
The news that the Los Angeles County District Attorney has charged Conrad Murray with Involuntary Manslaughter in connection with Michael Jackson's death has people debating whether his actions warrant a criminal prosecution, in addition to a potential wrongful death suit by Jackson's estate and possible revocation of his medical license. The decision to criminally charge Dr. Murray is rare, but not unprecedented.
In 1993, a grand jury in Queens County, New York, charged Dr. David Benjamin with Murder in the Second Degree after his 33 year old patient, Guadalupe Negron, died due to complications from a botched and illegal abortion that he performed in his storefront medical office. Dr. Benjamin was thought to be the first doctor charged with murder in New York State due to a patient's death during a medical procedure. At the time of Mrs. Negron's death, Dr. Benjamin's license to practice medicine was in the process of being revoked for "gross incompetence and negligence" in five previous cases in which the women he treated suffered life-threatening perforations to their uteruses — the same injury that led to Mrs. Negron's death.
Mrs. Negron learned of Dr. Benjamin's clinic from a newspaper advertisement in a Spanish-language newspaper. She paid Dr. Benjamin $800 for the abortion because she needed to go to work to help support her four children, three of them living in Honduras.
The evidence at trial showed that Dr. Benjamin performed a second-trimester abortion; Mrs. Benjamin was likely between nineteen and twenty weeks pregnant at the time. The abortion procedure lasted between one hour and fifteen minutes and two hours. Because there are greater risks involved in performing an abortion on a woman who is between nineteen and twenty weeks pregnant than in one in the first trimester, heightened safety measures were required. However, Dr. Benjamin did not adjust his procedure to account for the increased risk. During the procedure, Dr. Benjamin caused a three-inch laceration, extending from Mrs. Negron's vagina through her cervix, which perforated her uterus. The perforation of the uterus caused massive bleeding.
Following the abortion, Dr. Benjamin had Mrs. Negron wheeled into the recovery room while he performed another abortion even though she complained of feeling ill. Following such an abortion procedure, appropriate medical practice requires that the patient be monitored by trained medical personnel every five minutes for at least an hour. Dr. Benjamin ignored Mrs. Negron for at least one hour and there were no other trained medical personnel, no equipment to monitor her vital signs and no established emergency procedures.
After approximately one hour and ten minutes, Dr. Benjamin reexamined Mrs. Negron, who was cold. Dr. Benjamin's receptionist called 911. In a panicked attempt to revive the victim, Dr. Benjamin inserted an air tube into her esophagus, rather than her trachea. When the paramedics arrived, Dr. Benjamin falsely informed them that the abortion was performed without complications. When Mrs. Negron was lifted off the examining table to be transported to the hospital, about a liter of her blood remained on the table. In the end, Dr. Benjamin compounded his botched abortion by misleading paramedics about what happened.
After being convicted by a jury, the Judge sentenced Dr. Benjamin to 25 years to life in jail. Having exhausted his appellate rights, he remains incarcerated in a New York State penitentiary.
As part of the District Attorney's investigation, the Office executed a search warrant at Dr. Benjamin's office. I was a young Assistant District Attorney at the time and was present when the warrant was served. While I do not remember everything, I do recall the blood stained couch where Mrs. Negron rested following the procedure and seeing what appeared to be dirty instruments strewn about in various places in Dr. Benjamin's facility. I definitely remember feeling sorry for the people who had no other options but to turn to this storefront abortion clinic.
Though rare, prosecution of physicians is sometime appropriate. Dr. Benjamin's actions showed depraved indifference to human life and thus warranted the murder charge. It is probably safe to say that we have yet to learn all the facts in Dr. Murray's case. However, Dr. Murray allegedly gave Mr. Jackson propofol, a powerful sedative that is not supposed to be used outside of a hospital setting and needs careful monitoring, which a coroner determined caused Jackson's death with other drugs as contributing factors. Legally, Dr. Murray's alleged degree of culpability appears much less than Dr. Benjamin's. Hence, the lesser charge. Nevertheless, if Dr. Murray prescribed Mr. Jackson a powerful sedative that is not supposed to be used outside of a hospital and then failed to adequately monitor his condition, the prosecution appears warranted. If convicted, Dr. Murray faces a possible maximum four-year state prison term.