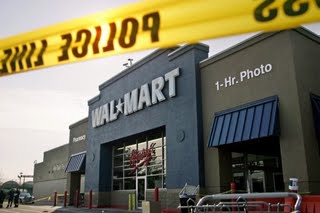 Every year, like clockwork, businesses put items up for sale on Thanksgiving Friday with the idea of creating consumer excitement.
The cameras roll, the doors open, and the masses go hurtling through the door as if eternal life awaits the first person in the big screen TV aisle. And every year people get hurt. Or, like last year at a Wal*Mart in New York, killed.
Having engineered the stampedes, Big Business has a duty to protect against the consequences of their actions. They can not claim that the stampede took them by surprise, since the stampede is what they want. The stampede is cleary foreseeable and there is a duty to provide effective crowd control measures.
Consumers jockeying for under priced goods makes for good video for the store, which makes people believe that there may be more in store at the store, and helps to build a reputation for good deals. But along with the good comes liability if crowd control is not provided.
Once upon a time Thanksgiving Friday was a delightful holiday with no name. Unless you were in retail or worked in the hospital, chances are you took the day off.
Over the last 10-20 years, of course, Big Business has been hell-bent on building "Black Friday" into a temple of consumerism.
Given the death last year at Wal*Mart, and the annual injuries that occur from reckless merchants that don't know jack about crowd control, Black Friday has an altogether different meaning for some.
Update: