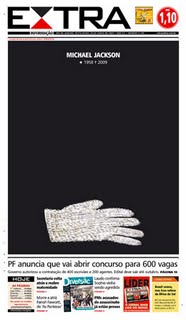 In the news yesterday comes speculation that Michael Jackson's mother, Katherine Jackson, might bring a wrongful death action on behalf of Michael's children. An obvious target is Dr. Conrad Murray. But promoter AEG Live might be in this too, and that would add a whole other dimension to any potential suit. This came from the AP story (Jackson's mother considering wrongful death suit):
"The possibility of a wrongful death action has been floated," [Jackson attorney Burt] Levitch said. "In that regard, no decision has been finalized … Dr. Murray's name has been floated because he is under investigation."

Authorities investigating Jackson's June 25 death have been focusing on Murray, who they believe administered a powerful anesthetic to the pop singer the day he died. Levitch wouldn't say whether concert promoter AEG might also be a defendant.
On the day after he died I analyzed the possibility of a malpractice suite (Michael Jackson: The Mother of All Malpractice Suits?) based on the little information that was available. I thought it unlikely if the only assets that the doctor had were a million dollar insurance policy.
When I followed up on this theme two weeks ago (Michael Jackson: Malpractice or Manslaughter (Or Something Else)?) I added that a suit might well go forward, not because of any immediate financial gain from the potentially limited pot of money, but to prevent Murray from profiting by selling his story. Knowing he would lose any book proceeds due to a judgment against him would be a pretty big disincentive to sit down and write, or to subject himself to interviews that could be otherwise profitable, if not painful to endure.
But….if Dr. Murray was employed by the promoter, and I don't know who signed his checks but that is one possibility, then the promoter could be on the hook for any judgment against Murray if he was acting within the scope of his employment with them. The concept of respondeat superior is well known to all who litigate, and the deep pocket of the employer is often sought when an employee hurts someone. I can easily foresee a fight here over whether Murray was an employee of AEG, or of Jackson, or was an independent contractor.
Now if the promoter was, in fact, the employer, I would guess that they bought a larger insurance policy on Jackson then the customary million, or demanded that Murray do so on his own. If they are found to be the employer, and therefore responsible for a judgment, we could be talking again about a whopper of a malpractice case.
But wait! There's more! For while the death of Jackson would seem on first blush to create one of the largest potential personal injury cases in the nation's history for any one individual, how does one calculate the loss? For in Jackson's untimely death the estate is reaping millions of dollars that would seem to offset a large part, or even all, of the award. Is Jackson a better earner dead then he would have been alive? Lawyer-blogger Hans Poppe addressed this issue a few weeks back.
This is, of course a helluva tough question to answer for any entertainer, let alone one of Jackson's stature. He did sell out 50 shows at The O2 Arena in London, but he also carried a huge amount of baggage due to issues regarding inappropriate contact with children. How much could he have made? And how much of that would he have consumed if he lived? He didn't exactly live a life of modesty.
So the potential for AEG to be found an employer of Dr. Conrad Murray opens up a can of legal issues, and a potential lawsuit, the likes of which no medical malpractice attorney has ever seen.
Assuming the investigation brings evidence of negligence by Dr. Murray, will this suit be brought? Or not?
(Photo from from Extra, Rio de Janeiro)
——————————
Related:
Of Death and Profit (Eduardo Porter in

NYT Editorial Notebook

, 8/19/09):


The reported $100 million that Michael Jackson's estate made in the first seven weeks after he died easily surpassed the $52 million generated last year by the estate of Elvis Presley, formerly the highest-grossing dead celebrity, according to Forbes magazine. It is way ahead of Marilyn Monroe's $6.5 million last year, James Dean's $5 million and John Lennon's $9 million.

Death has long been a savvy financial move in the visual arts: it guarantees that the supply of new works has come to an end, conferring scarcity value upon the existing oeuvre.