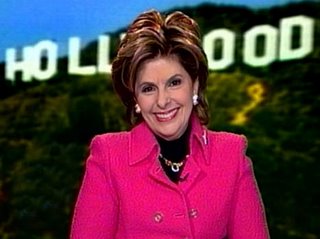 It is, perhaps, the most bizarre of legal specialties: Celebrity Lawyer. It must be a specialty, because the media insist on tagging California attorney Gloria Allred that way.
Allred managed to get her mug in the news by suing Octomom Nadya Suleman. Leaving aside the little issue of whether Allred has standing to sue — apparently on behalf of a child welfare advocate with no apparent connection to the case — at least I understand what an Octomom is. But a "celebrity lawyer?" This headline comes from New York's Daily News: Octomom Nadya Suleman sued by celeb lawyer Gloria Allred for exploiting her babies.
Now I understand what a matrimonial lawyer is. And I know what an entertainment lawyer is. And certainly what a personal injury lawyer is.
But what the hell is a "Celebrity Lawyer?" Do all celebrities have the same issues? Think about it. Criminal defense. Real estate. Securities. Immigration. Corporate work for those that have their own productions companies. Child welfare if you're Britney Spears. Adoption if you're Madonna.
The list of potential legal needs is limited only by the many ways people need to protect themselves from troubles.
So someone who pitches her services as being a "celebrity lawyer" is, in fact, saying that she is a Jane-of-all-trades (and, therefore, master of none). But should a major media outlet buy this self-promotional aggrandizement?
Allred's website starts with this bit of vomit-inducing narcissism:
Gloria Allred is the most famous woman attorney practicing law in the nation today, a tireless and successful advocate whose high-profile legal battles …
I don't know the lady but I hate her already. Anyone who writes about themselves that way seems to have an ego so large it would ultimately get in the way of any legal issue presented. If I'm a client, I don't want the case to be about the lawyer. I want it to be about me. My issue. Not the lawyer's desire for fame.
It's clear that Allred does a fine job of getting her mug in the news, and therefore she probably gets cases as a result. But why anyone would hire such a person for a specific problem is utterly beyond me.
I once knew a lawyer with a lot of high profile clients, and he asked me to try a medical malpractice case with him. The lawyer had decades of experience. We went to verdict. He was, in my 24 years of experience, the worst trial lawyer I ever saw. Lots of shtick, but no preparation. No concept as to how a medical malpractice case should be handled.
Rookies I've tried cases against were far better. But he had high profile clients, and that begot more high profile clients. What he lacked were actual courtroom skills. Every time I saw his face in the news I knew his clients would hang.
Hiring a "celebrity lawyer" is, perhaps, the dumbest thing a person can do if they need actual legal help.
See also:
Celebrities + Lawyers = One Train Wreck After Another (Legal Pad)
The (shudder) "Octomom" is gonna face Gloria Allred in court. Allred, consistently described in news articles as "feminist celebrity lawyer Gloria Allred," is going after the mother of 14 for being unfit…
Links to this post:
celebrity lawyer gloria allred

related posts. we don't feel competent to handle your hair (0); rob lowe nanny lawsuits (2); november 27 roundup (0); muscling into her clients' wedding pictures (3); moe the chimpanzee escapes; st. james davis v. west covina update (9)

posted by Walter Olson @ May 05, 2009 7:07 PM