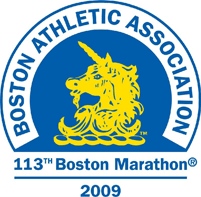 (Amtrak – northbound, April 18) Every adventure starts with a journey. As I leave my wife and kids behind I experience that rarest of moments — leaving town by myself when it isn't for business. As the steel wheels rumble underneath me heading north toward Boston, I slip on the iPod and tune in Arlo:
Riding on the City of New Orleans,
Illinois Central Monday morning rail
Fifteen cars and fifteen restless riders,
Three conductors and twenty-five sacks of mail.
(Hynes Convention Center, Boston, MA, April 19) – I pick up my race bib and can't believe I have it in my hands. I ran my first marathon in 1994, but it wasn't until 2007 that I ran fast enough to qualify for this race. Boston is the only marathon that requires a qualifying time, other than the Olympics and the Trials. I'd only dreamed of it. I thank the woman for volunteering and tell her it took me a decade to get that little package she just handed me.
(Athletes Village, Hopkington, MA, April 20) I've gone through my pre-race checklist: Vaseline on the feet, taped nipples, peanut butter, chocolate and banana sandwiches. Empty the bladder. Then do it again. I go through the course map in my head.
But what am I doing here? When I was a kid, I suffered repeated injuries in 7th, 8th and 9th grades. While everyone else moved forward athletically, I went backwards. I strove for mediocrity.
And now I'm with 25,000 people getting ready to run the Boston Marathon, representing at this moment the largest and most concentrated collection of physically fit people on the planet. As well as the largest single concentration of nervous energy. From every state and from 85 different nations. I'm not worthy. I try to rest under a huge tent in the morning chill, but end out walking around. Pacing.
(Start Line, Hopkington, MA) Each corral has 1,000 runners. I'm in the 11th, corresponding to my bib, #11228. The crowd surges and stops, surges and stops as we make our way to the start, which we reach six minutes after the gun. But we will be timed by the electronic chips tied to our shoes, so it doesn't matter. I shed the disposable warm-ups I brought with me, bought for a few bucks at Salvation Army for just this purpose, to be recylced to a charity (along with thousands of others) after the race. The finish line on Boylston Street is 26.2 miles away.
(Natick, MA) I'm supposed to grab a beer from a former blogger I know at mile 8.2 after entering Natick, but we miss each other. The early miles, after a quad-trashing downhill start, run through Ashland and Framingham and are an easy cruise, with the smells of grilling meat and popping corn wafting by as music blares from this place and that. The residents are having a blast as we pass marathon party after marathon party, as they sit in comfy lounge chairs screaming for total strangers. With my name on my shirt, I'm personally cheered thousands of times during the race.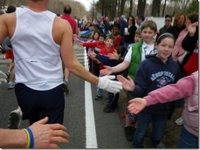 I'm not looking to break any personal records or kill myself on this rolling course. The hard part is qualifying. The race is dessert. I merrily slap many of the outstretched hands of children lining the course, who treat us middle-of-the-packers like professional athletes. It took too long to get here and I just want to enjoy it all. But I did want that promised beer from the former blogger and I'm bummed that I missed it. But then, salvation! A frat-like group is handing out beer cups on the way out of Natick at around mile 11. And I grab a few ounces.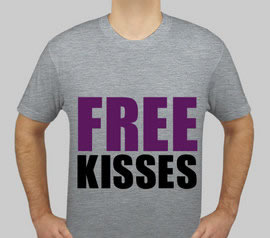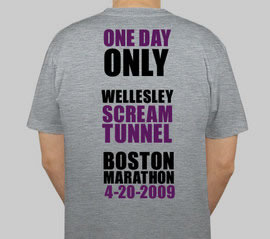 (Wellesley, MA) – The Wellesley College "scream tunnel" near the 13 mile mark can be heard 1/4 mile away. The women are standing on the barricades, cheek to jowl, leaning into the race, screaming for kisses and holding up imploring signs. Who am I to disappoint them? Was it six that I kissed? Eight? Ten? Another runner and I contemplate circling back for more. As one other blogger noted:
They were 2 and three deep and every third or fourth one held a sign of some sort. For about 300 yards it was the largest gathering of nothing but college women I'd ever seen. But that was not what was most striking. It was the signs. Most of them read things like "Kiss me I'm a first year", "Kiss me I'm a senior", "Kiss me I'm from New Hampshire", and even "Only Kiss me if you're a girl". Was it a joke? No. The guys who were sprinting by me were kissing multiple women as they ran. They'd stop, kiss, run, kiss another. It was classic.
(Heartbreak Hill, Newton) — Still running with ease as I am joined by my nephew near mile 17. He stays to the center away from the water and Gatorade so as not to get in the way or consume runner resources. As we get closer to Boston, the towns get bigger, the crowds thicker. Heartbreak Hill is at miles 20-21, the last in a long series of hills in Newton.


Thankfully, I find more beer being passed out at the base of the last, and largest, hill. Beer never tasted so good. Thus fortified, we ascend Heartbreak toward Boston College. And my nephew drops out at a pre-arranged spot to jump on local transit and meet me later in the family reunion area.
(Brookline, MA) After passing Boston College at mile 21, the crowds thicken more as the terrain turns definitively urban. It heads downhill and my quads scream at me for relief. I'm distracted by Wonder Woman running near me. Folks have stopped yelling my name, because they have a much more interesting runner. But I can't catch her, just as I can't catch the Hooters girl or Richard Whitehead running on prosthetic legs.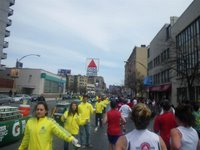 I hit Beacon Street and am heading into downtown Boston. Ahead of me is Kenmore Square and the giant Citgo sign, one mile from the finish. I will finish this race. Even if I have to crawl it in. But I need not crawl. The crowds carry me along, and I in turn, whoop and holler back at the crowds, as we feed on each other. It is energy well spent. For without the spectators, it wouldn't be the same. They are an integral part of this spectacular show.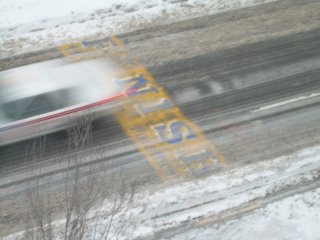 (Boylston Street, Boston MA) — Last winter I stayed at the Charlesmark Hotel on Boylston Street. My room overlooked the snow-covered finish line, and I took the picture you see here.
The scene now looks altogether different as I turn from Commonwealth Avenue onto Hereford Street and then onto Boylston, thick with Bostonians several people deep on both sides of the road.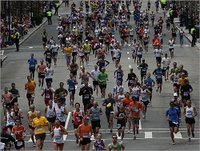 I see the finish line ahead, with a temporary bridge over the street to hold the cameras and press. Through the exhaustion I ham it up once more for the crowds, again waving in an up swept motion to get them louder and louder. I raise my arms up in advance of the finish line.
I want a good finisher's photo for my wall.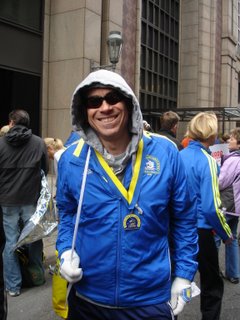 (Finishers Chute, Boston, MA) — My pace slows to a crawl, along with everyone else. Each step a painful effort. It will take 20-30 minutes for runners to meet up with family as we move from station to station through the recovery area. Water. Gatorade. Food. Heat shields. Chip removal. Medals. Baggage. Change to warm, dry clothes that we had checked onto dozens of buses at the start. I find my brother and his family, with whom I have stayed, in the reunion area. I pick up an over-priced souvenir running jacket with the race logo on it. I'll wear it in the old folks home decades from now so the attendants will know that I once did more than wheel myself around babbling incoherently.
(Amtrak, southbound, April 20) — My brother drives me to the train after I shower and eat at his place. We arrive at the station at the same time the train does. I jump in and grab a seat. Drop my bags and hit the bar car. Grab a Sam Adams and head back to my seat.
I think about the race and the extraordinary logistics. I think about the new half marathon trail race I'm organizing in the 'burbs of NYC and wonder what I can do to make it better.
I feel the wheels rumbling 'neath the seat as the car gently sways and dusk settles in. I pick up the iPod and, like I try to do at the start of all journeys, put on a little traveling music:
Nighttime on The City of New Orleans,
Changing cars in Memphis, Tennessee.
Half way home, we'll be there by morning
Through the Mississippi darkness
Rolling down to the sea.
And all the towns and people seem
To fade into a bad dream
And the steel rails still ain't heard the news.
The conductor sings his song again,
The passengers will please refrain
This train's got the disappearing railroad blues.
In one sense this was 26.2 mile journey. In another it was a three-day weekend. In yet another sense it started in 1994 when I finished my first marathon and I realized that I had never tested my physical limits. And in another sense the journey started in 7th grade when I ground to a halt athletically while my peers surged forward.
But after long efforts I finally qualified for one of the most prestigious races in the world. I toed the line at Hopkinton and arrived on Boylston Street. I ran Boston.
This post took me an hour or two to write, but it took me years to get here.
—————————————————–
And if you want more about what it's like inside a marathon, read below. And feel free to send along links to others…
I live close to mile 24 of the Boston Marathon and when I'm in town I love to go watch it. Today I was there for more than an hour, from just before the elite runners arrived till the first part of the main group came through.
Links to this post:
blawg review #210

half-wracked prejudice leaped forth "rip down all hate," i screamed. lies that life is black and white. spoke from my skull. i dreamed. romantic facts of musketeers. foundationed deep, somehow. ah, but i was so much older then,

…

posted by @ May 04, 2009 1:26 PM

 

the carnival of running #27

if you've never seen the episode of nova where coaches at tufts take 12 people off the coach and train them for the boston marathon, it's available on hulu and well worth your time just for the stuff about how your physiology adapts to

…

posted by Mike @ April 29, 2009 11:16 AM

 

a non-race report; ny?; more photos!

until last night, i planned on running the rye derby today. the temperature for today was expected to reach 88, although it actually got to 91. i was still ok with it, until i read of someone dying at the nashville half-marathon.

…

posted by joegarland @ April 26, 2009 8:52 PM