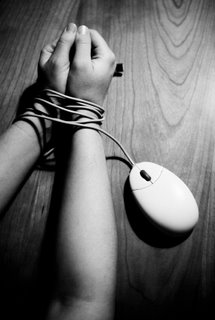 In a decision released today, a sharply divided panel of the Appellate Division, First Department determined that an admitted sex offender will keep his New York law license. A majority of three justices suspended the license of the admitted offender for three years. Two dissenters insisted he should have been disbarred. The case is Matter of Lever.
Steven J. Lever was caught in a sting operation when "he engaged in sexually explicit conversations over an internet chat room with an undercover police officer posing as a 13-year old girl, followed by his attempted meeting with the presumed minor for purposes of sexual contact." The then 30-year old patent lawyer, formerly at Kirkland and Ellis, had logged on to a chat room targeting older men and younger women. In six separate conversations over a period of three months he engaged in discussions with "significant sexual content" and then arranged to meet the girl at the Ronkonkoma train station in Suffolk County for the purpose of oral sex.
In 2005 he plead guilty to to the misdemeanor crime of attempted criminal sex act in the third degree.
The matter was first heard before a referee, who recommended just a six-month suspension, taking into account the mitigating circumstances that Lever had admitted to his conduct, cooperated with police, and that there was no actual contact with a minor, among other things.
The case proceeded to a six-member Hearing Panel that didn't appreciate the light nature of the referees six-month recommendation. The panel took the view that "preying upon … minors for sexual gratification by means of the internet should be dealt with more harshly." A majority of the Panel therefore recommended that Lever be suspended for three years, or until the end of his criminal term of probation, whichever was longer, and that any reinstatement be conditioned upon a psychiatric evaluation. A sole dissenter on the Panel believed that a one-year suspension was appropriate.
From there the matter went to the Appellate Division, which resulted in today's divided opinion. In a per curiam majority by Justices Gonzalez, Nardelli, and McGuire, the court noted that "use of the internet to prey on minors for purposes of sexual gratification is despicable and dangerous misconduct, that has brought shame to himself and to this State's bar." They went on to write that "serious misconduct of this type necessarily requires a significant sanction that will convey to members of the bar and public that this Court will not permit attorneys who engage in such immoral and criminal behavior to continue practicing law."
But the majority voted not to disbar since they saw a distinction between an attempt to have sex with the minor and actually doing it. The court wrote:
Given that most State's penal statutes treat sexual contact with a minor as a higher-grade crime than an attempt to commit such a crime (as would be the case in a sting operation), there is no basis for us to ignore that distinction in attorney disciplinary proceedings. Respondent's sanction should be premised on what he was convicted of doing, not what he might have done if circumstances were different.
The majority went on to give great credit to mitigating factors in arguing against disbarment. They wrote:
Further, even if we agreed with the dissent that the offense, by itself, would ordinarily require disbarment, the substantial and credible mitigation evidence offered by respondent in this case requires us to consider a lesser sanction. From the beginning, respondent has admitted responsibility for his actions and has taken "uncommon" efforts to rehabilitate himself. After his arrest, he voluntarily entered sex offender treatment and all evidence in the record supports the therapist's opinions that such therapy appears to be working and that the likelihood of respondent repeating the misconduct was "low." Further, respondent cooperated with the criminal investigation and with Committee staff in their investigations, and he has no prior disciplinary record.
Justice James Catterson, writing in dissent and joined by Justice Saxe, called the act of dissenting in a disciplinary case an "unusual step" and urged disbarment, writing "I do not believe that we can reconcile the status of registered sex offender with that of a member of the bar in good standing."
Justice Catterson went on to explain his reasoning as follows:
[Lever's] counsel characterizes [his] conduct in a three month campaign of seducing a girl that he believed to be thirteen years old as a "disturbing social problem." This attempt at minimizing the acute danger of sexual predators should be summarily rejected. I recognize that New York attorneys convicted of various crimes are routinely suspended and ultimately return to practice law after a suitable period of time. Of course, there is a very broad spectrum of crime from the venal to the mortal and the discipline imposed upon attorneys must necessarily reflect that diversity.

However … we are charged with the duty of protecting both the courts and the public from unfit attorneys, and even attorney discipline must have some absolutes; some event horizon that dictates disbarment. Generally, conversion of client funds has epitomized that litmus test. I believe that a convicted and registered sex offender merits disbarment, even when the crime, as in the instant case, is inchoate.
Justice Catterson's point at the end, that taking client money is the most common reason for disbarment, is well taken. Readers are left to decide on their own if sexual predation is worse than the taking of money. I, for one, think it's a slam dunk, and hope the matter is appealed to the Court of Appeals so that this attorney is disbarred.
———————————————-
Update, 12/31/08: The New York Law Journal has published a long article regarding this rare split decision on a disciplinary matter.
Links to this post:
a tale of two lawyers

the internet tells two stories this morning. first, the maryland daily record tells the story of an applicant to the maryland bar who has been practicing law, apparently without incident, in new york for 25 years.

…

posted by @ January 05, 2009 4:05 PM




blawg review # 193

welcome…. bienvenue…willkommen … london calling…. i have the pleasure of opening the batting for the series of 2009 blawg reviews. i did my first blawg review exactly a year ago. i cannot quite believe that a year has gone by so rapidly

…

posted by charonqc @ January 04, 2009 4:38 PM




lawyers who sought sex with 13-year-old suspended

what gets a lawyer disbarred in new york? apparently not trying to "engage in an oral sexual act" with a 13-year-old. in 2004 barrister steven j. lever chatted online and had several phone calls with a cop pretending to be a severely

…

posted by @ December 31, 2008 1:17 PM




daily roundup 2008-12-31

due to work and family commitments today and tomorrow, this may be my final post at overlawyered. walter olson will be returning shortly. eight los angeles police officers may face suit from an unwilling jamie lynn spears decoy.

…

posted by SSFC @ December 31, 2008 8:25 AM




"Sex Offender Keeps Law License"

"Sex Offender Keeps Law License": At his "New York Personal Injury Law Blog" today, Eric Turkewitz has a post that begins, "In a decision released today, a sharply divided panel of the Appellate Division, First Department determined

…

posted by @ December 30, 2008 4:10 PM