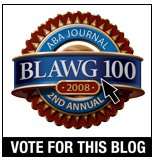 Last year when the ABA put together their list of the top 100 law blogs, personal injury lawyers were noticeably absent. I was sharply critical of the ABA for ignoring this entire field of law. Part of my rant looked like this:
It's not a question of one blog being picked over another since this is, after all, just another vanity contest that small niche blogs don't have a shot of winning. No, the significant thing is that the vaunted American Bar Association simply doesn't think that this field of law is relevant. The decision to ignore a vast segment of the law speaks volumes about the organization.
This year, however, there are two included, mine and Drug and Device Law. Half of the "honorees" in last year's 100 are gone, replaced by 50 new ones.
Drug and Device, which discusses the field from the defense side and focuses on personal injury cases that tend toward having hundreds or thousands of claimants, is in the niche category that didn't exist last year. The ABA description is:
From the pharmaceutical and medical-device product liability litigation corner of the blogosphere, there's no beating this defense-oriented blog. Seasoned defense lawyers Jim Beck of Philadelphia and Mark Herrmann of Chicago, along with authoritative guest contributors, pick apart rulings and explore issues common to this niche practice.
Those guys have stiff competition when you see the niche category with 15 entrants — tough competition because they want people to vote. No matter what happens, they come out smelling like a rose.
I, on the other hand, have thin competition with only five entrants in the regional category. My description looks like this:
Aside from thoughtful posts on New York tort law and insights into tort litigation in general, Eric Turkewitz also gets props for punking the blogosphere. On April 1 he posted a story contending that the U.S. Supreme Court granted cert in a fantasy baseball case — and that fantasy-baseball-player Justices Stephen G. Breyer and Samuel A. Alito Jr. had recused themselves while Antonin Scalia and Ruth Bader Ginsburg, also players in this fantasy story, declined to do so.
Alas, in the early voting I am fighting for last, not first. That means that the small category is a curse and not a blessing if you're heading for the basement, as it sets me up for big-time abuse from others. Like my family. So please do me a favor in this utterly meaningless vanity contest, and throw me a vote so I don't come in last.
You can find the whole list here. And remember, it's all very subjective, both as to quality and category. Voting ends January 2nd.