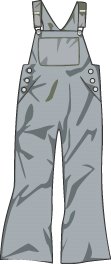 Former administrative judge Roy "Pants" Pearson, who infamously brought a $67M lawsuit against a dry cleaner for allegedly losing a pair of trousers, has lost his bid for a new trial. That he subsequently lowered his demand to only $54M didn't seem to matter (Previously: Pants Lawsuit Ends in Victory for Dry Cleaners.)
Covered extensively up down and sideways by every writer with a keyboard, the D.C. Court of Appeals has now weighed in to reject the appeal.
Pearson's claim, briefly summarized by the Court in a 23-page opinion, was:
Pearson's claims regarding the "Satisfaction Guaranteed" sign are premised on his interpretation that the sign is an unconditional and unlimited warranty of satisfaction to the customer as determined solely by the customer, without regard to the facts or to any notion of reasonableness — a position he has consistently advocated both in the trial court and on appeal…
[Pearson] argued unambiguously that "[a]s a consequence of offering an unconditional guarantee of satisfaction a merchant is required to satisfy a consumer's demand for lawful compensation (for example, for any amount of money). (emphasis added by Court of Appeals, at page 13 of decision)
The trial court, said the appellate bench, showed "basic common sense" to reject the unlimited claims of Pearson and that Pearson's fraud claim "defies logic."
The court's opinion is rather matter-of-fact about the case, with a long recitation of the facts and extensive citation to case law. There are no gratuitous comments about the ludicrous nature of the demand, other than the legal analysis of it being without basis, and no discussion of sanctions.
The court may realize that such sanctions and commentary are unnecessary since, in the court of public opinion, Pearson has been tried and convicted and there was nothing new to add.
The decision is here, courtesy of How Appealing: Pearson-v-Chung.pdf