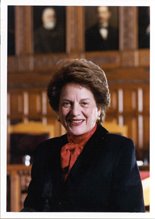 Blaring across the front page of today's New York Times after a couple weeks of speculation is the story of Caroline Kennedy vying for Hillary's Senate seat. One of the most disturbing parts of the article comes from an anonymous source who says that Gov. Paterson likes the idea of a Kennedy-Paterson ticket in 2010 when they both must run. This is the money quote:
"The upside of her candidacy is that the 2010 ballot will read Kennedy — Paterson," said one of those advisers, who was granted anonymity to speak candidly about the governor's thinking. "David craves national attention and money. If you connect the dots, it leads to her."
Kennedy's qualifications, apparently, are that she chose her parents well. She has done some fund raising for education, but is not known to have had a full time job in many years (though she does have a law degree).
Sorry, but that's not good enough. In fact, I find it downright offensive. We've seen what happens when the child of a famous politician vaults into public service based on that fame, and not on actual achievements. After eight years of George Bush, I don't care to see anyone, of any party, get an important position based on their name.
So here is a suggestion to consider for the vacant Senate seat: Chief Judge Judith Kaye, who has served as New York's chief judge longer than anyone else, and done so with distinction. (There is a video tribute to Kaye at the New York Law Journal website. h/t Ed.) She is retiring now because she hit the mandatory retirement age of 70 (see: Chief Judge Kaye Says Goodbye).
Now I don't know if Kaye actually wants the job. We've never met and she doesn't know me from a hole in the wall.
But it seems to me that she has served with distinction, is widely trusted and respected, and thus should at least be considered for the position along with other qualified individuals.
Given that Paterson was known to be peeved that a woman was not part of the panel of potential replacements for Kaye for the chief judge slot, and that he would like a woman to replace Hillary, it seems that, as one of the most accomplished women in the state, her name should be in the mix for consideration.
One final item, given the scandal with Gov. Nutjob out in Illinois trying to sell Obama's seat to the highest bidder — I hear he may consider eBay for this — it makes it even more important for Paterson to make sure that the person he picks is well-qualified.