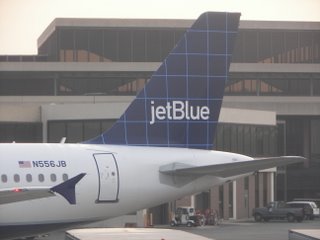 Another day, another idiot. I see the headline, "NY man sues airline over flight spent in toilet," with a demand for two million bucks, and all I can think is, Did the tort 'reformers' pay them to do that?
It isn't even Christmas yet. Not even close. And yet there seems to be this compulsion to hand gifts to corporate protectionists trying to slam the courthouse doors closed.
The basic facts of the story are that the plaintiff was allowed to board a packed Jet Blue flight, but was then told he had to sit in the toilet for the second half because a flight attendant needed his seat. While the facts seem ludicrous, I'll give the guy the benefit of the doubt for the moment that someone effed up by putting one too many people on board, and that he deserves compensation of some kind (and that the FAA should investigate). If everything he says about the facts were true, as reported in the newspaper, a free ticket or two would certainly be in order. That's why we have Small Claims Court.
My beef is with the idiotic demand for millions for "extreme humiliation" in New York's Supreme Court.
Where do I start? How about here: The lawyers who brought this suit don't do personal injury law for a living. How do I know this? Easy. They sued for $2,000,000 for personal injuries. Except that every personal injury attorney in New York, or at least every one that does this on any kind of regular basis, knows that New York banned the practice of monetary demands in personal injury suits years ago. (See: New York Cleans Up Claims Act)
So after getting the big tip off that this firm didn't practice personal injury law, I logged on the court's computers to double check. The suit was brought by a firm called Akin & Smith. And if you check their web site you will see that they practice in the field of employment and discrimination suits. I see nothing about personal injury. [See Update 1 below]
Hey guys, thanks a lot for helping to smear those of us that actually practice in this arena. Really, we appreciate it. I have three cases coming up for trial for people whose lives have been profoundly altered by negligence, and now I have to hear jurors talk about crap like this?
If this guy sues JetBlue for extreme humiliation for what they did to him, can attorneys who actually know what they are doing sue him for what he has done to us?
Update 1 — 5/15/08: It seems I missed the mark on whether this firm does personal injury work. I recieved this email about the firm from Louis J. Schepp:
You talk about the plaintiff's attorneys, Akin & Smith as not doing personal injury work. During my days (29 years) at Liberty Mutual, I had dealings, in the last few years, with this firm in cases involving personal injury in both State and Federal Court. They do a sufficient amount of personal injury work, that they should know the rules about ad damnums, but may have wanted to get the press that large ad damnums bring.

On the other hand they may have wanted to start the clock on removal as soon as possible. Putting the ad damnum in the complaint is good strategy, (the statute does not provide any real penalty for putting it in) as it starts the time running on Federal court removal. I had a number of cases that I removed to Federal court, that I would not have been able to do so, if the ad damnum had been in the complaint, since the 30 day time limit is unforgiving.
Update 2: JetBlueLoo Follow-Up: What Really Happened? (5/15/08)
——
Link is via TinyURL redirect, so their website doesn't benefit from any Pagerank as a result of this post.
——
Photo credit: From Wikimedia Commons