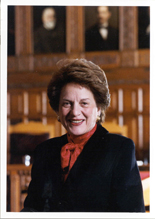 New York's Chief Judge, Judith Kaye, threatened to bring a lawsuit for judicial pay raises in April (New York's Chief Judge Threatens To Sue For Pay Raises).
Then she changed her mind in July (A Judicial Brawl in New York As Chief Judge Kaye Abandons Lawsuit Threat).
Now, according to this AP report, she is once again threatening a lawsuit (NY's chief judge says she may sue over judicial pay raises, via Judicial Reports).
What, exactly, is the rest of the state's judiciary to think?
Links to this post:
anything that fits, they'll print

after another round of threatening, pleading and cajoling, the issue of judicial pay raised for new york's judges came back to the editorial page of the new york times this week. as eric the turk noted, chief judge judy kaye

…

posted by SHG @ December 14, 2007 2:07 PM