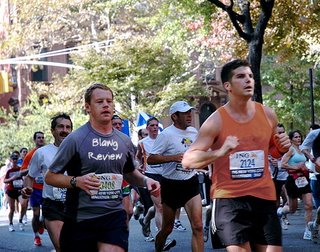 The New York Personal Injury Law Blog is hosting the next weekly Blawg Review, a round-up of the most interesting blog postings from throughout the legal blogosphere. So do me a favor and write something intriguing for this round up, or I won't have anything to work with.
Two complex rules for a post to be considered:
It has to be well written;
You have to let me know it exists in time for inclusion.
The way to submit your blog posting (or someone else's) is at this link, not by sending it directly to me.
And this is important: The theme is not going to be personal injury law. I do those types of reviews each week in my personal injury law round-up. So while there will be personal injury posts if I get quality submissions, this Blawg Review will be completely different from my other postings. Suffice it to say that I can, and will, fit any topic into the review. (My PI round-ups will return the following week.)
Deadline for submissions is 11:59 p.m. on Saturday, for publication Monday. It would be appreciated if submissions were sent throughout the week, and not left to the last minute, so that I'm able to organize the Blawg Review ahead of time.
I invite you to return on Monday so that we can race together across the legal landscape.
Links to this post:
posted by Diane Levin @ November 07, 2007 7:40 PM