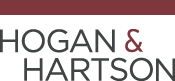 This has nothing to do with New York personal injury law, but I like mysteries. And one legal mystery may have been solved.
Some folks had heard radio ads calling for clients disgruntled with Hogan and Hartson to call a number to complain (See Above the Law and Overlawyered), particularly if clients felt that a junior associate had handled a case where a partner had been retained.
Now, according to New York Lawyer (free sub.), Hogan's chairman, J. Warren Gorrell Jr., has stated:
"This is a fee dispute with a former client. They're causing an unusual level of harassment to make their case. But if there were much of a case, I think they would have gone a different route."
The name of the unhappy mystery client, that apparently thinks he was over billed, remains unknown to the public.