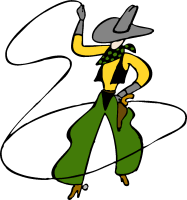 The New York Personal Injury Law Blog presents the week that was:
Before heading to the trials, let's spend some time focusing on the issues of risky conduct and tort "reform:"
Topping the wee-bit-too-much-risk department: A father takes his 10-year old son for a run with the bulls in Pamploma (via QuizLaw);
Since defective products are often the subject of injuries, Lowell Steiger at Los Angeles Personal Injury Blog brings us a link to a new government website that provides links and recall information from six different government agencies;
And more from Texas on their tort "reform" that, I noted in last week's Round-Up, has now encouraged more doctors to come to Texas. Kevin M.D. points to the benefits of fewer lawsuits, while Stephanie Mencimer at The Tortellini tells us about the convicted sex felon who is now a practicing Texas physician. In the same vein, Ronald Miller at the Maryland Lawyer Blog discusses a West Virginia physician that has 120 malpractice suits against him, and who has just stopped practicing there and changed his name. Will he try to restart his practice elsewhere, and if so, which state is most favorable for him?
The American Constitution Society For Law and Policy Blog has a report on how the U.S. Supreme Court is blocking the courthouse door by making it dramatically more difficult, if not impossible, for ordinary Americans to have their day in court. U.S. Solicitor General Paul D. Clement agrees, as he discussed in a speech in Philadelphia on Tuesday (via How Appealing);
Bill Childs at TortsProf has the story of the California Supreme Court invalidating waivers for gross negligence (via Point of Law), keeping at least one courthouse door propped open; He also reports that there may be an immunity deal surrounding The Big Dig in the works;

David Williams at his Health Business Blog provides an update of the Veggie Booty recall, part of a spate of medical and food issues resulting from goods imported from China; The Consumerist live-blogged the Senate hearings on the Chinese Poison Train; and Bill Marler starts a suit in New York, where the plaintiff had simply asked for an apology and been denied;
Sheila B. Scheuerman, also at TortsProf, brings us a report that Avandia side effects have tripled (See also Pharmalot); This comes at the same time that Avandia's maker, GlaxoSmithKline, is sending out threat letters to attorneys who are advertising for clients (Pharmalot); (See also TortsProf on Avandia spam and my post on the potential ethical issues involved);
David P. Lowe of InjuryBoard:Milwauke Personal InjuryLawyer reports on yet another amusement park fatality, this time in Wisconsin;
Now on to some litigation:
The widow of slain Wall Street Journal Reporter Daniel Pearl filed a federal lawsuit in Brooklyn against the terrorists suspected of killing him and one of Pakistan's largest banks. (Sharon Cobb)

In the picking a jury department: Ken Shigley at Atlanta Injury Law and Civil Litigation Bloghas new data on public opinion and jury selection. Of course, that presumes we have a jury to pick. Anne Reed asks, Is The Jury System Dying over at Deliberations, positing some reasons why we see fewer trials today, and following up with Clients, Choices and the Jury System;
Working with one of Anne's posts, Howard Zimmerle at QuadCities discusses the dangers of over-reaching with your claims, in What Jurors Think of Your Personal Injury Claim;
Judicial Reports reports (in its 2nd item at this link) that the World Trade Center litigation list grew yesterday as three rescue workers announced they will sue the city over Mayor Bloomberg's allegedly "squandered" attempts to use the $1 billion insurance fund for 9-11 victims to help rescue workers who filed work-related injury claims; TortDeform has more on this after the filing of suit;
In verdicts, a practicing physician and mayor has lost a medical malpractice case (Kevin, M.D.)
After the money is in, there could still be problems. Especially if you are Houston attorney John O'Quinn. Ted Frank at Overlawyered reports that he has to refund at least $35M (plus interest) to his breast implant clients. He follows up a day later with a copy of the decision; According to Robert Ambrogi, by the way, Walter Olson's Overlawyered may have been the first ever legal blog;
While on the subject of lawyers, Ken Shigley asks a question I've never heard: Are trial lawyers sharks, wolves or sheep dogs? You have to read Ken's piece to find out;
In the settlements department, the Archdiocese of Los Angles agreed to a whopping $660M settlement for over 500 victims of sexual abuse by priests (USA Today Opinion, also at MassTorts Litigation Blog, RomanCatholicBlog, and LiberalCatNip, among many others;
And finally, Blawg Review #117 was hosted this past week by Austin Criminal Defense Lawyer Jamie Spencer.
Enjoy the weekend.
(Eric Turkewitz is a personal injury attorney in New York)