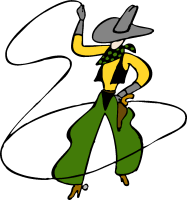 The New York Personal Injury Law Blog presents the week that was:
Before heading to the trials, let's spend some time focusing on the issues of risky conduct and tort "reform:"
Historic Rye Playland in Westchester County, New York has seen three deaths in three years , including one last month. With that in mind, TortsProf and amusement park afficienado William Childs points to a story in the New York Post about a spot check done by the paper and some very unhappy findings;
Also in the lawsuit waiting to happen arena, Seth at QuizLaw gives us one truck driver with 131 accident claims in six months;
At Overlawyered, guest blogger Ron Coleman notes a stampede of doctors to Texas in the wake of tort "reform" that places sharp limits on recoveries. Imagine that, the government steps in to give varying degrees of immunity and protections to tortfeasors, and people rush in to the protected palace of immunity. Ironically, the post is captioned "Free Market Magic," despite the quite obvious protectionism of government that does exactly the opposite (also at Kevin, M.D.);
And since Texas tort "reform" is being discussed, I might as well point out that one unwitting loser in the deal could be small Texas businesses, as explained by Austin practitioners Perlmutter & Schuelke;
Quad Cities Lawyers has blogged on an 8-minute video on tort "reform" that includes industry being the guiding force behind the faux movement, the McDonalds case and Pants Pearson;
At Trial Ad Notes, Mary Whisner reports on a study that concluded that the Illinois tort system does not appear to be the cause of the undisputed fact that doctors' liability insurance premiums showed dramatic rises (via Deliberations);
And since we are on the subject of doctors, let's turn to electronic health records, who some had hoped would lead to improved medical care. But according to Theo Francis at the WSJ Health Blog, computerized records aren't much better than paper;
And it seems that the world of ambulance chasing has reached new depths, with David Bershad of Milberg Weiss & Bershad pleading guilty to conspiracy to obstruct justice. (Other blog posts at the link);
Before going on to trial, I note that a Canadian woman died from using counterfeit drugs. Also, Chinese food and drug chief Zheng Xiaoyu was executed for bribery related to unsafe products. This gives me another opportunity to urge Congress to pass Tim Fagans Law, to make our drug supply chain safer;
Now on to some actual trial stuff:
As we pick a jury, we often hear excuses for why people can't serve, inlcuding this one from a personal injury attorney in one of my own jury pools. The Legal Reader brings us an even more extreme example, so bad that charges may be brought;
Howard Zimmerle of Quad Cities Injury Lawyers blogged on a UK study done on the "value" of life lost in wrongful death cases;
Michael Sung at Jurist reports that Judge Alvin Hellerstein in the Southern District of New York has scheduled trial for six wrongful death lawsuits related to the September 11th attack; (also at Sui Generis)
And from the Department of Verdicts:
A federal jury in West Palm Beach, Fla., has awarded $5.5 million to the estate of a young West Palm Beach man who died from an overdose due to the malfunction of a popular prescription pain patch (Duragesic) manufactured by two Johnson & Johnson subsidiaries. (Daily Business Review via Law.com, See also Cuban & Reyes Blog, PharmaGossip, and InjuryBoard: West Palm Beach Personal Injury Lawyer)
After a defense verdict in a lead paint case, David Lowe of InjuryBoard:Milwaukee Personal Injury Lawyer adds to the blawgospheric discussion of governments that hire outside counsel on a contingency basis. Suffice is to say, there will be no caterwauling about the legal fees the government needs to pay this time.
(For those interested, there is a long analysis of the concept of using outside counsel by Michael Dorf at Dorf on Law, an analysis directly at odds with this April 6, 2007 blog by Beck/Herrmann😉
TortsProf has the jury verdict in a suit against basketball star Allen Iverson's bodyguards;
This New York medical malpractice verdict comes courtesy of doctor-attorney Dainius Drukteinis, from NY Emergency Medicine, and involves the amputation of two fingers and delays in the ER with respect to contacting orthopedics for reimplantation surgery;
With a verdict in hand, we wonder about the tax consequences of the pain and suffering part, a subject I covered at that link on January 12th of this year based on Murphy v. IRS in the Court of Appeals for the District of Columbia. The panel has now reheard the matter and upheld the prior determination that the award is taxable. There are several opinions on the subject at the TaxProf Blog;
From Thomas Swartz at New York Legal Update, an appellate court reverses a malpractice award against a psychiatrist that had resulted after a patient committed suicide;
Before leaving the courthouse, we'll let two attorneys reflect on the end game, with Scott Greenfield at Simple Justice discussing his passion for the win in Fighting Form, and Ronald Miller lamenting in Losing at the Maryland Personal Injury Law Blog. The fact is, anyone who tries tough cases for a living will undoubtedly lose some, but that intellectual response doesn't really ease the pain;
And finally, Seventh Circuit Judge Terence Evans is Talkin' Baseball in a suit involving George Brett and a "stealth" bat. (Type in "Brett" at this link to find the case.) How many other judicial opinions have cited a clip of the infamous pine tar incident on YouTube? (Via How Appealing);

(Eric Turkewitz is a personal injury attorney in New York)